Woman Who Suffered Cardiac Arrest During Labour Speaks To Heart
9 February 2016, 16:22 | Updated: 9 February 2016, 17:16
A woman from Southampton who suffered a cardiac arrest while giving birth to twins wants to help save more mum's to be.
Emma Clarke delivered her first baby without a problem, but tells Heart it went downhill from there.
She's helping to raise 30 thousand pounds so Southampton General Hospital and Princess Anne Maternity Hospital can get a machine to check the hearts of pregnant women.
It will mean quicker diagnosis and safer care if any issues are found.
Emma spoke to Heart about what happened to her and why she is supporting the campaign to get a machine.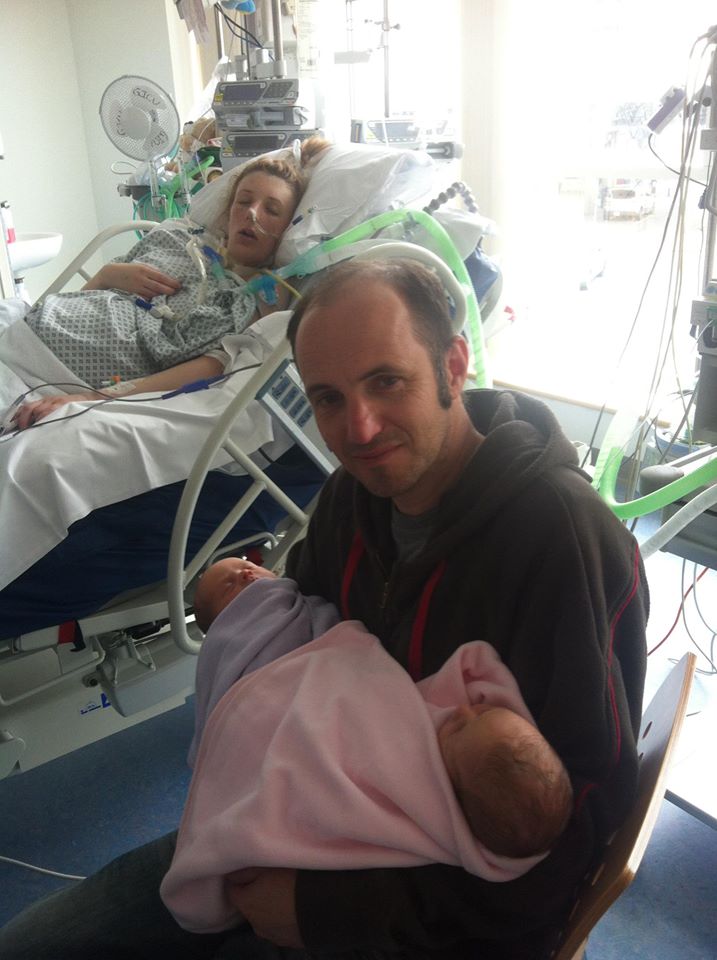 University Hospital Southampton, NHS Foundation Trust want to raise £30,000 to purchase a cardiac ultrasound machine to scan the hearts of pregnant women who have cardiac problems, from early pregnancy, during pregnancy and even after the baby is born.
Dr Samantha Fitzsimmons, Consultant Cardiologist, comments:
"Currently the joint cardiac obstetric clinics are co-located between Southampton General Hospital and Princess Anne Maternity Hospital. Scans at these clinics look at the function and structure of the heart, and allow us to distinguish if the woman will be at risk during pregnancy and labour."
"Currently the scanning machines available are not portable, which means that they are solely based at Southampton General Hospital in the Cardiac Unit."
"In an emergency, pregnant ladies with heart conditions at the maternity unit can wait for 2-4 hours for a private ambulance to safely transfer them across the road to the cardiac unit for a scan. They may then wait a further 2-4 hours for another ambulance to take them back to the maternity unit. An on-site ultrasound machine means that these women can be seen and scanned within minutes. The machine needs to be portable, not the patient."
This will mean quicker diagnosis and safer care for pregnant women during pregnancy and labour. In addition, the new mothers will not be separated from their newborn baby at a crucial bonding time in the relationship."
"For non emergencies, the women currently have their cardiac assessment in the morning clinic at Southampton General Hospital solely for access to a cardiac ultrasound scan. They then attend a second combined cardiac obstetric appointment in the afternoon at Princess Anne Hospital. By having a cardiac ultrasound machine onsite in the maternity hospital provide a 'one-stop-shop' appointment to improve patient experience."
The cause: cardiac disease
Cardiac disease is the most common cause of indirect maternal death and the most common overall cause of death. Therefore, women with pre-existing cardiac disease and those who present with cardiac disease during pregnancy require specialist assessment and management during pregnancy, childbirth and aftercare through hospital multidisciplinary teams.
From as early as the second month in pregnancy, a mother's body changes in preparation for carrying and delivering a baby:
" The blood volume increases
" Blood pressure may fall
" The heart works harder and beats faster
" The blood becomes thicker and can put women more at risk of having blood clots
Overall pregnancy can be like running a marathon for 40 weeks for the heart
The CX50 cardiac ultrasound machine
The latest CX50 cardiac ultrasound machine is highly portable (about the size of a laptop) and can be taken to a patient's bedside and set up quickly to run tests.
This means that the pregnant women will receive faster, better results and have appropriate medical management and care to optimise the safety of both mother and baby. This will ideally help these women with a cardiac condition and their families cope with the anxiety of being pregnant, and result in a safe pregnancy and successful delivery
The portable cardiac ultrasound machine will be used ad-hoc in the labour and pre and post-natal wards, as well as regularly in the dedicated obstetric cardiac clinics by the multi-disciplinary team.
Emma Clark, 35 from Totton was carrying twins in April 2012.
"I went into labour naturally on the day I was due to be induced to give birth to my girls, so everything was going as planned as we made our way to Princess Anne maternity Hospital. What then followed was the most traumatic time of mine and my husband, Jon's, life."
"I was given an epidural and gave birth to Beatrix naturally, but then had to have a caesarean section as Millie's heart rate had dropped and they needed to get her to the neonatal intensive care unit."
"I remember not feeling quite right but assumed it was linked to the pregnancy. After Millie was delivered I had a cardiac arrest due to postpartum cardiomyopathy heart failure. My heart literally stopped beating and I needed manual CPR."
"Immediately I was transferred to the cardiac intensive care unit at Southampton General Hospital and the next few weeks were a blur. I had several serious complications following birth and needed 33 units of blood in theatre to replace the blood I had lost."
"I was in a coma and put on life support using an Ecmo machine which basically allows the blood to bypass the heart and lungs, allowing them to rest and get better. I was put on the heart transplant list as my heart function was at around 5%, although now thankfully it is back at full function."
"When you watch TV programmes like Casualty, you see the people having a heart attack and they get up and walk off, no matter the age. I'm quite young, but four years on, I'm still recovering from it."
"In total I spent around eight and half weeks in hospital, including one month in the cardiac intensive care unit. Our friends and family have been our rock - we couldn't have coped without their help, and the staff at both hospitals have been amazing. Their care was second to none and helped me pull through. When I look back at what happened, it really is a miracle I am here with my family."
Click here to donate.