World's Largest Car Carrier Ship In Southampton
8 September 2015, 13:03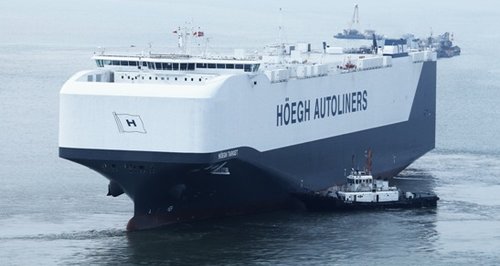 The world's biggest car transporter ship has arrived in Southampton as part of its maiden voyage.
The 20,000 tonne Hoegh Target has deck space the size of ten football pitches - and can carry 8,500 vehicles. The Target berthed at the Port of Southampton this morning (Tuesday 8 September) on its journey from East Asia to Europe and onwards via Africa.
It's even bigger than the company's Hoegh Osaka, which got stranded off the Isle of Wight in January 2015.

The 656ft (200m) long vessel with 14 decks is the first of six to be owned by Hoegh Autoliners and is the world's largest pure car and truck carrier (PCTC).

Steinar Lovdal, head of capacity management at Hoegh Autoliners, said:
``The launch of Hoegh Target is a milestone in the company's history. This is the first Post Panamax PCTC that we take delivery of and the New Horizon design truly represents state-of-the-art engineering.''
The Hoegh Target is intended to minimise its impact on the environment, with the hull designed to aid low fuel consumption.

Mr Lovdal said: ``In Hoegh Autoliners, we have a deeply held belief in the necessity of taking responsibility for the environment in which we operate. It is with great pride that we today name a vessel that is estimated to emit 50% less CO2 per car transported than a standard car carrier.''

The vessel also has a higher door opening than the firm's current vessels, enabling cargo up to 21ft (6.5m) high and 39ft (12m) wide to be loaded, and with extra ramp strength to allow cargo weighing up to 375 tonnes to be loaded over the stern ramp and 22 tonnes over the side ramp.

Hoegh Autoliners hit the headlines in January when its ship the Osaka, with 1,400 vehicles on board, was deliberately grounded on a sandbank in the Solent after it began listing as it left Southampton port.