Yacht Collides With Poole Chain Ferry
12 August 2018, 09:55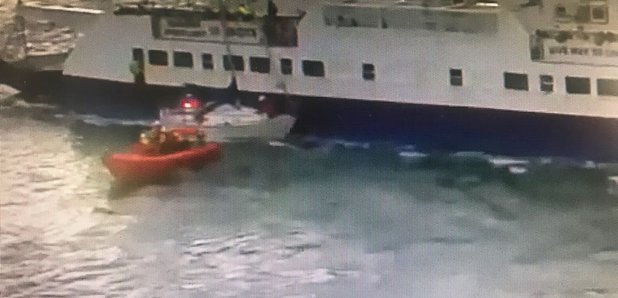 A yacht's had to be freed from the side of a chain ferry in Poole Harbour after a collision.
Lifeboats were called out yesterday evening when the 30-foot yacht, with two people on board, got pinned against the Bramble Bush Bay ferry. No-one was hurt.
Both Lifeboats were tasked at 6.25pm on Saturday 11 August by UK Coastguard.
There was a spring tide that was pinning the yacht alongside.
Poole lifeboat Sgt Bob Martin (Civil Service No. 50) was first on scene and assessed the situation and it was decided to get the vessel off the chain ferry before any serious damage was done. The lifeboat manoeuvred close enough to the yacht to connect a towline, and the people on board the yacht prepared themselves as the lifeboat took the strain.
The lifeboat pulled the yacht alongside and clear of the ferry and one of the lifeboat crew was transferred across to check that the two people on board were okay and that the yacht had not suffered any serious damage. All checked out okay and the two people on board, although shaken, were okay to proceed under their own power and headed back into Poole Harbour.
Volunteer senior helm Jonathan Clark said:
"This was a difficult job, in challenging conditions, the spring tide was at its peak. It was a similar scenario that happened in 2001 on the other side of the Chain Ferry when the yacht disappeared underneath with one person in it. The sea is unpredictable and it's a notorious bottle neck in the harbour which has caught many experienced seafarers out, thankfully it was a good outcome."
Paul Glatzel Volunteer Lifeboat Operations Manager said:
"What looks a straightforward rescue was in fact an incredibly challenging and skilful rescue by the Helm and Crew of the Poole Lifeboats, we are delighted that all involved are safe and well."