When Dan met Alexandra Burke
Click below to hear the highlights of when Dan Mills met Alexandra Burke.
One small limitation was that from Dan's studio he couldn't actually see Alexandra... so he produced an 'artists impression' based on Alexandra's description and tweeted it to her mobile phone.
She wasn't best pleased... are you surprised?!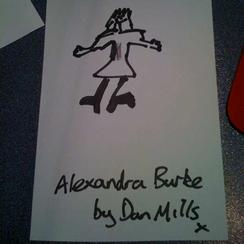 Hear Alexandra's reaction by clicking here.
Would you be offended by Dan's artistic flair? Let him know below...