Box of 1920s poppies found in a suitcase in Cardiff
10 November 2018, 08:03 | Updated: 10 November 2018, 08:10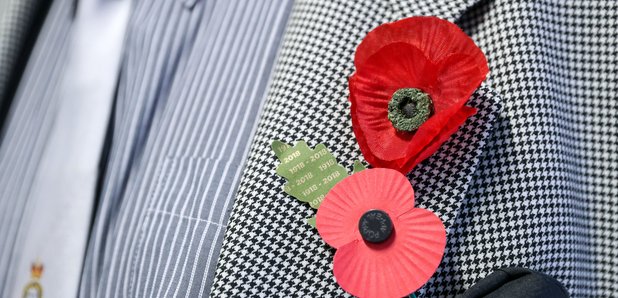 A box of poppies from one of the earliest Poppy Appeals has been discovered in an old suitcase in Cardiff.
They date back to before the Second World War and are made of red fabric with a metal stem, and the words "Haig's Fund" in the centre.
The red silk poppies were first sold by the Royal British Legion in 1921, with the funds raised used to help veterans.
Bernie Axtell found them in his house after rummaging through paperwork.
He'd been given the poppies by a friend around 30 years ago while working for the Royal British Legion in Somerset.
"I didn't know at the time what to do so I kept them in an old suitcase," he said.
"I was looking for some paperwork and I opened the case and thought 'I wonder what's in here'. This box came out.
"Then the 100-year anniversary just hit. I had put them away for a rainy day. We are now at a very, very special time.
"Something up there made me open that case on Sunday."
He says he could have easily thrown the box away when he and his wife moved from Somerset to Cardiff.
Claire Rowcliffe, director of fundraising for the Royal British Legion, said: ""It is even more poignant that they were rediscovered in the year that marks the end of First World War centenary.
"Finds such as this are an important part of documenting the charity's history and we thank Bernie for bringing them to our attention.
"We are so pleased we can put them into safe keeping for the appreciation of future generations."