Bird dies after getting stuck to rugby posts
26 July 2017, 14:01 | Updated: 26 July 2017, 14:03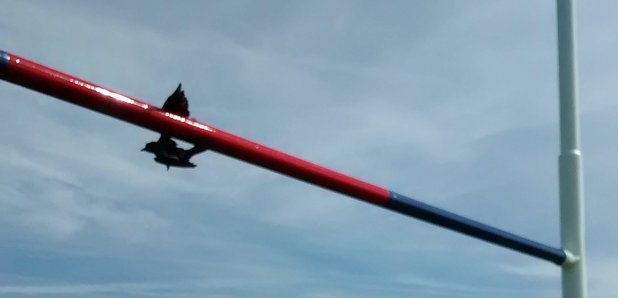 A jackdaw has died after getting stuck to freshly painted rugby posts in Bridgend.
The freak accident happened at Tondu RFC's ground in Aberkenfig last week.
The jackdaw had become stuck on the crossbar with one of its wings hanging downwards.
The RSPCA attended the Pandy Park ground and used a ladder to rescue the stricken jackdaw.
Sadly, the bird had a heavily damaged wing from the ordeal, and was smothered in gloss paint and had to be put to sleep to prevent suffering.
Animal welfare officer Andrew Harris said: "The posts were painted the day before, and sadly this poor jackdaw clearly misjudged his flight and flew straight into the crossbar.
"This was a freak accident which could not realistically have been prevented.
"This accident is just one example of how everyday situations do, on occasions, lead to the RSPCA being called out to tend to wild animals."