Boss jailed over golf course death near Newport
10 July 2017, 13:46 | Updated: 10 July 2017, 14:05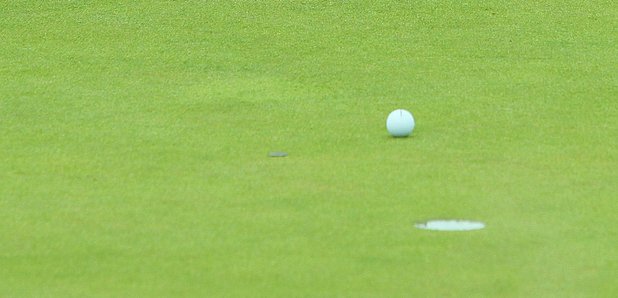 A company boss has been jailed after a ball collector died on a golf course near Newport.
Cardiff Crown Court heard Dale Pike "stood and watched" as Gareth Pugh dived into a lake to collect golf balls on the Peterstone Golf Club, in Wentloog, in February last year.
They were due to be sold by Pike's company Boss Golf Balls, which collects balls from lakes and ponds on golf courses.
Gareth lost his breathing equipment during the dive, and had been underwater for 70 minutes when the emergency services pulled his body out of the lake.
Prosecutor Phillip Evans QC said: "Dale Pike was observing as Mr Pugh was diving in the lake. It became clear to Pike that something had gone wrong.
"Mr Pugh was found in the water, weighed down by a weighted belt and a bag of golf balls that he was retrieving."
Cardiff Crown Court was told Pike should have hired properly trained divers to carry out the work, but instead chose Mr Pugh who had learning difficulties. He was paid between £20-£40 per day for the work he did.
Mr Phillips said: "The defendant did not have suitable qualifications or training on the day that Mr Pugh died.
"It is a matter of simple common sense that a person who is submerged while wearing weights is at risk of drowning."
David Elias QC, defending, said: "He naively and foolishly believed that all would be well with the use of that equipment in that lake."
Pike, of Glynneath, Swansea, admitted manslaughter by gross negligence.
He was jailed for two years and eight months.
Judge Keith Thomas said: "You allowed Mr Pike to take those risks to make a quick buck.
"The risk of death or serious injury was obvious to you, but your cavalier attitude towards safety was the cause of Mr Pugh's death.
"With hindsight you bitterly regret what happened."
Speaking after the sentence, Iwan Jenkins, CPS Head of Complex Casework, said: "There was clear evidence Pike had made enquiries with legitimate dive operators to cost this activity but he chose not to use them, instead falsely claiming to the golf club that he was a qualified commercial diver with his own equipment.
"Our thoughts are with Gareth's family and friends and we thank them for their support throughout the legal process."