Dragons drop "Newport Gwent" from their new kit
22 August 2017, 14:06 | Updated: 22 August 2017, 14:19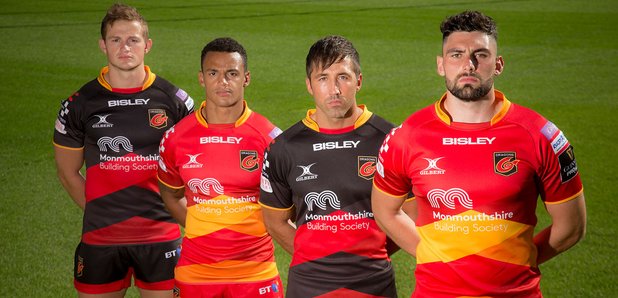 The Dragons have unveiled their new home and away kit for next season, which will be the first since the region dropped references to "Newport" and "Gwent".
The new home jersey has the familiar black and red colour scheme, but the away kit is now red and amber.
The region's bosses say the chevron design is a "symbol for protection" and reflects the region's Roman history.
The kit design will also feature the new Pro14 logo, with two Southern African teams joining the Welsh regions in the tournament next season.
Pete Grzonka, Dragons Commercial Director said: "It's always an exciting time designing a new shirt and we have worked closely alongside both Gilbert and the WRU to make sure that we capture the history of the region through the home design and colours.
"We have moved away from the blue design for our away kit, as we felt that it was a good opportunity for a fresh new look through the use of red and amber."