'Fred and Rose West' of Barry jailed for child rapes
18 October 2018, 15:04 | Updated: 18 October 2018, 15:10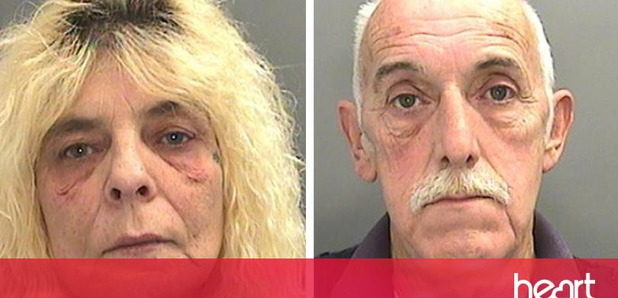 A husband and wife described as the "Fred and Rosemary West of Barry" have been jailed for a total of 36 years after grooming and raping teenage girls in their hometown
Peter Griffiths, 65, and Avril Griffiths, 61, repeatedly abused the girls in a number of locations including at a sex party on a boat.
The pair were found guilty of rape, indecent assault and taking indecent photos of a child relating to three female victims between 1978 and 1993.
One of their victims described them as the "Fred and Rosemary West of Barry".
At Cardiff Crown Court on Thursday, Peter Griffiths was sentenced to 21 years in jail for eight counts of rape, three of indecent assault and two of taking an indecent photograph of a child .
His wife Avril Griffiths was sentenced to 15 years in jail for five counts of rape, two of taking an indecent photograph of a child and two of indecent assault.
Outside court Detective Sergeant David Rich, the officer in the case, said: "Today's sentences reflect the gravity of the crimes which have been committed by Peter and Avril Griffiths. This couple who were responsible for appalling abuse have now been brought to justice.
"I would like to commend the three victims in this case who have shown immense strength and courage throughout the investigation and court proceedings. I hope today's sentence provides some closure for them and their families as they attempt to move forward with their lives.
"South Wales Police urges anyone who has been the victim of any kind of sexual abuse or assault to come forward, safe in the knowledge that they will be treated with respect and dignity by officers.
"I cannot imagine how difficult it must be to come forward to report sexual abuse but I want to reassure anyone considering doing so that there is a whole range of support out there, not only from the police but from partner agencies who can help you through the entire process.
"Survivors of abuse by predators like Peter and Avril Griffiths deserve to see them brought to justice and we are determined to do all we can to help them."
Detective Chief Inspector Justin Evans said: "Following the convictions of Peter and Avril Griffiths, two people have reported allegations of non-recent sexual offences to police. We are investigating these allegations and they are being supported by specially trained officers.
"Since the trial, further information concerning allegations of contact between police officers and the defendant Peter Griffiths have been reported to police. This investigation is ongoing."
An NSPCC Cymru spokesperson said: "Peter and Avril Griffiths acted together to plan and systematically carry out the rape and abuse of children over many years.
"The appalling nature of these crimes is reflected in the jail terms imposed by the court and in the terrible impact on the victims' lives. It is down to the courage of the survivors, and their testimonies, that justice has caught up with this despicable couple.
"This disturbing case shows once again that survivors can achieve justice when they are able to report past abuse. The NSPCC's Helpline is available 24/7 to highlight abuse and to seek support."