Inmates set off "explosive device" at Cardiff prison
28 July 2017, 12:04 | Updated: 28 July 2017, 13:08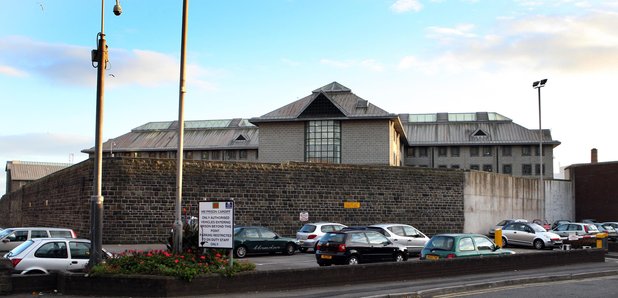 A whistleblower has revealed inmates attempted to set off an explosive device at HMP Cardiff.
South Wales Police said "a bottle containing an unknown liquid erupted and slid across the floor" on 15th June.
A Prison Service spokesman confirmed the incident took place and that no prisoners or staff were hurt.
The incident came to light after the whistleblower from the prison raised concerns with Plaid Cymru AM Bethan Jenkins, saying they were so understaffed inmates could "take over'' the prison in "less than 10 minutes'' in a riot situation.
The South Wales West AM is now calling on the UK Government to conduct an urgent review into prison staffing levels and security across the prison estate.
She said: "If this incident is happening and prison officers feel that unsafe and if prisoners get to the point where they think they should be doing this type of thing for whatever reason then we have to be concerned.
"I don't want to scaremonger. My intention is to draw attention to the fact that A, there is a severe problem with recruitment and understaffing and B, I believe the prisoners feel that they need to be heard and respected more and treated better.''
Miss Jenkins said her sources also raised concerns about the "appalling'' problems with the educational programmes at the prison.
She wrote to the Prisons Minister Sam Gyimah to raise her concerns.
"The Director of Public Sector Prisons in South Wales has reviewed the incident and the actions taken and is content that measures are in place to prevent a further re-occurrence,'' he replied.
"The police arrested four men following the incident and are seeking to press charges against the individuals, it is not believed to be an act of terrorism.''
They added: "The matter was referred to the police and it would be inappropriate to comment further at this stage.''
Responding to Miss Jenkins's request for information about staffing levels at HMP Cardiff, Mr Gyimah said there were currently 18 vacancies.
Miss Jenkins added: "We know that there is a significant shortage of prison officers across the prison estate and that there is an ongoing problem - acknowledged by the Westminster Government - in terms of recruitment and retention of staff.
"The numbers speak for themselves and coupled with what's being relayed to me by prison staff in South Wales, it clearly warrants further action by the UK Government.
"Plaid Cymru is therefore calling on the UK Government conduct an urgent review into prison staffing levels and security across the prison estate.''
She also called for powers over criminal justice and policing to be devolved to Wales "as soon as possible''.