Two men sentenced for fatal truck crash
27 January 2017, 13:28 | Updated: 27 January 2017, 14:47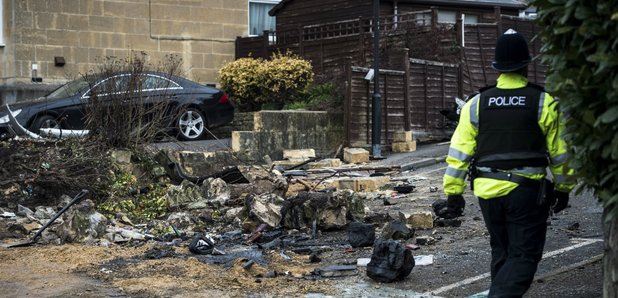 A haulage boss and a mechanic have been sentenced for a crash in Bath which killed a 4-year-old-girl, and three men from South Wales.
Matthew Gordon and Peter Wood were both convicted of manslaughter after a tipper-truck careered down a hill in Somerset.
Four-year-old Mitzi Steady died and her grandmother, Margaret Rogers, suffered serious injuries when they were hit by the lorry.
The vehicle then continued down the hill, killing Stephen Vaughan from Swansea, and Philip Allen and Robert Parker from Cwmbran, who were sat in a parked car.
The court heard the brakes on the 11-year-old lorry failed on a steep lane when the brakes on his 11-year-old truck failed, and witnesses reported seeing smoke coming from the lorry.
Gordon has been jailed for seven-and-a-half-years while Wood has been sentenced to five years and three months.
The court was told Grittenham Haulage did not carry out the recommended brake efficiency tests on the vehicle.
The truck was described as "an accident waiting to happen'' and had almost 450,000 miles on the clock at the time of the incident.
In a victim impact statement, Stephen Vaughan's wife Sian said she never thought she would be widowed at the age of 33: "Whatever happens today will never compensate for what I have lost, no time, punishment or words will ever fill the massive void."
Louise Allen, whose husband Philip was killed, described him as a "hardworking man", adding: "There is now a void in my life because my soulmate is gone. I live with the sadness every day of knowing that he was robbed of his own life way too early.
"It is heartbreaking knowing that he was killed in such horrific circumstances. Our plans for the future destroyed."
Robert Parker's wife told the court the tragedy still haunts her: "I had the misfortune to be driving behind one of these huge tipper trucks carrying gravel the other day and I shuddered as it hurtled down the road in front of me and tore up off a very narrow country lane. "When will these people learn?" I asked myself."
The driver of the truck, Phillip Potter, 20, was cleared of all the charges he faced. He had only worked at the company a few days, and insisted he would never have driven the lorry had he known the brakes were faulty.