Welsh van used in Finsbury Park attack
19 June 2017, 13:21 | Updated: 19 June 2017, 13:25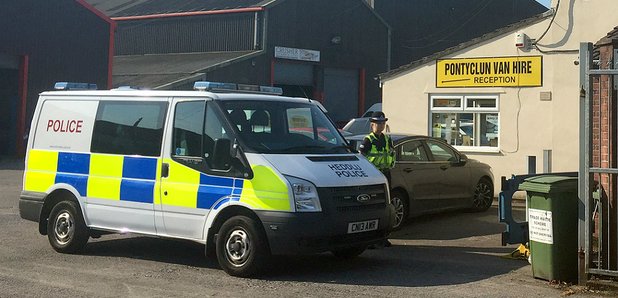 The firm believed to have hired out the van used in the attack near the Finsbury Park Mosque have said they are "shocked and saddened".
Photographs of the white van involved in the incident in north London, which is being treated as terrorism, feature logos of Pontyclun Van Hire.
Staff at the firm, situated near the village of Pontyclun in the Rhondda, said they were co-operating fully with police.
In a statement handed to media outside the company, they said: "We at Pontyclun Van Hire are shocked and saddened by the incident that took place at Finsbury Park last night.
"We are co-operating fully with the Metropolitan Police investigation and our thoughts are with those who have been injured in this cowardly attack.
"We will not be making any further statement because of the ongoing police investigation but will continue to assist the police in any way we can."
Police were present at the premises, which is open seven days a week, throughout Monday.
Villagers from Pontyclun spoke of their shock at the apparent local connection.
Shop worker Helen Edwards said: "It was a shock to see the van was from Pontyclun, it brings it close to home. When it's so close to home it's even scarier.''
Hannah Jenkins, 23, from Talbot Green, who works in the Spar shop in Pontyclun, described it as a close-knit community.
"I think everyone is in shock. This is a small village in Wales and you don't expect something like this here," she said.
Christine Batchelor, a volunteer at Pontyclun Community Centre, said: "Pontyclun is such a little place that you never expect it to be connected to anything like this.
"We are a part of the community and have had a meeting here today. It was a complete shock for everyone to hear this."
Diane Cooper, who also lives in the village, said: "You see these awful events in London and Manchester and you don't think there's going to be a connection with a place like Pontyclun.
"I've lived here over 50 years and it's not the sort of place that you feel nervous in. It's a lovely, quiet village, and it was a shock on the television to see that van came from Pontyclun."