Make Summer's Birthday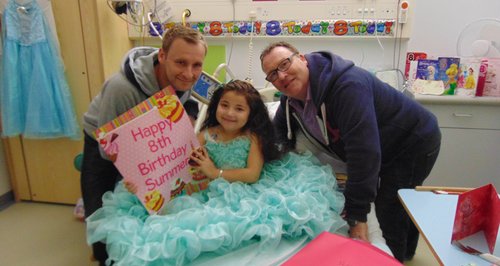 8 year old summer is very ill in hospital. She has one birthday wish and we want you to help it come true.
Summer spent her eighth birthday in hospital. She got diagnosed with Wilms' tumour when she was younger and her recent kidney transplant failed.
She is now waiting for a new kidney and is on dialysis every day.
She LOVES cards and wants lots to open at her birthday party when she comes out of hospital.
Please send Summer a card to us here and we will deliver them all to her!
Please send them to:
Cards for Summer
Heart
The Red Dragon Centre
Hemingway Road
Cardiff Bay
CF10 4DJ
Thanks everyone! Lets make Summer's birthday party the best ever!!
Are you a master cake baker, or can you make amazing party decorations? If you can help with making Summer's party extra special please contact Producer EJ by emailing emily-jane.poyser@thisisglobal.com