Devon: The True Cost Of Winter Storms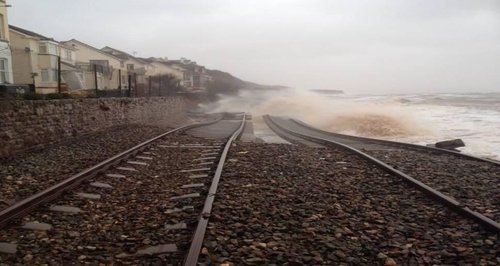 It's EXACTLY a year since pictures of railway tracks dangling in mid-air in Devon after winter storms were beamed around the world.
A new report out on the 1st anniversary shows the county lost up between £60 MILLION to £1.2 BILLION during the 2 months the line was closed.
The Devon Maritime Forum has launched its 'Holding the Line' report which reviews the impact of the winter storms of 2013/14 and assesses the responses and resilience of people and places in Devon.
All industries were hit, with a £135 million reduction in holiday spending in the first half of 2014, compared with the same period from the previous year, and Brixham Fish Market experienced a £3 million reduction in sales in Spring 2014, compared with Spring 2013.
The report states that the impact of the images of the winter storms were as, 'powerful and devastating, economically, as the physical impacts of the storms themselves.'
Communities are praised by the Forum for coping with the storms with a quick and co-ordinated response.
However, with the likelihood of an increasing incidence of extreme events, the report states that lessons have to be learned, and that action must be taken now to ensure responses are improved to help communities cope and bounce back from any future events.
The Forum has identified three examples of good responses in the immediate aftermath of the storms.
Network Rail's repair of the mainline at Dawlish, which ensured the line re-opened on time on 4 April;
Visit Devon's 'Open for Business' campaign, which was launched to counter negative perceptions;
The Devon Flood Recovery and Co-ordination Group, led by Devon County Council, which provided practical and financial support for affected communities after the emergency response and relief phase had finished.
The Forum sets out a number of recommendations to help improve the resilience of coastal communities and businesses in Devon in future extreme events.
These include:
Recognising and valuing the knowledge, experience and suggestions of the local community;
Improving access to, and awareness of, grants/aid and compensation schemes;
Assessing the advantages of soft engineering and environmental schemes versus hard physical defences;
Making better use of coastal partnerships.
For more information go to www.devonmaritimeforum.org.uk