Hate Crime Spikes After Brexit Vote
15 February 2017, 08:31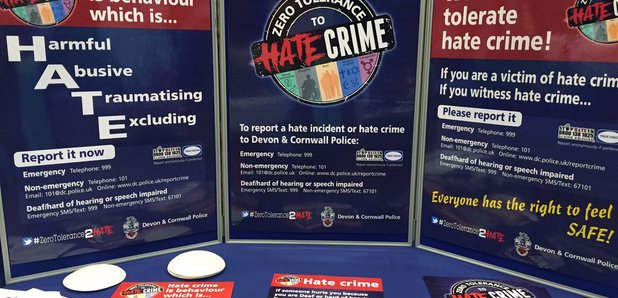 Record levels of hate crime were reported by three-quarters of police forces in England and Wales in the aftermath of last year's EU referendum,
According to new figures, 220 incidents were reported to Devon and Cornwall Police between June and September 2016, that's a rise of 63%.
In a written statment, Devon and Cornwall Polcie say: "We are aware that since the outcome of European Union referendum that there has been an increase in the number of hate incidents and hate crimes at forces across the country, including Devon and Cornwall.
"We recognise that this behaviour may be unsettling to our diverse communities and they may feel particularly vulnerable. Our diverse communities' teams and neighbourhood teams are working hard to provide support and reassurance to all our communities.
"It is vital that we all work closely to promote the message that any instances of hate such as abuse, harassment or violence are completely unacceptable and will be dealt with robustly, with a zero tolerance approach."
A human rights organisation has said the country should prepare for the possibility of further spikes in offences once the Brexit process has begun.
33 out of 44 forces recorded the highest quarterly number of hate crimes since comparable records began in April 2012.
Provisional figures on hate crimes published by the Home Office in October 2016 suggested that offences in July 2016 were 41% higher than in July 2015.