"Where's our rail funding?" say MP's
7 November 2018, 12:34 | Updated: 7 November 2018, 12:49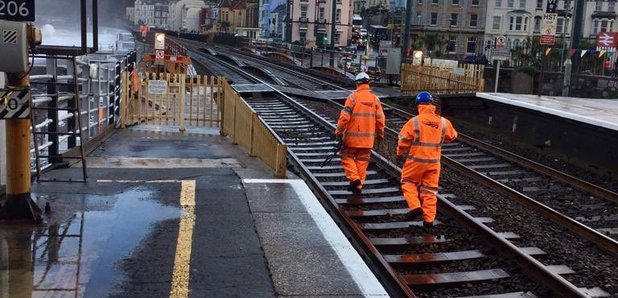 Labour MP's in the South West say the government must give funding for our railway.
After more problems on the railway line at Dawlish this morning, MP's are asking the government to cough up the funding to sort it out NOW.
Yesterday evening, Network Rail said because of severe weather forecast overnight, the line at Dawlish would be closed.
There were no trains running between Newton Abbot and Exeter this morning - but there were rail replacement bus services.
The buses were were taking 90 minutes for the 12 mile journey between Newton Abbot and Exeter.
Network rail engineers went to Dawlish this morning to see what damage has been caused by the strong winds and heavy rain overnight, and found the stones holding the railway tracks and sleepers in place had been moved by the waves crashing over the sea wall.
Our engineers are out on track checking for any damage to the railway line through #Dawlish, Holcombe and Teignmouth.

Richard is here to give an update on the status of the railway currently.

Keep an eye on our feed for further updates. pic.twitter.com/InXMH5D1wP

— Network Rail Western (@networkrailwest) November 7, 2018
The line eventually reopened just before 10.30am.
Now MP's are calling on the government for better funding to sort out our rail links in the South West.
Luke Pollard, the Labour MP for Plymouth Sutton and Devonport says there was no announcement on funding in the budget last week - but he wants the government to sort it out now.
"We need a vocal, united and determined front to show Ministers that funding other regions and neglecting us is unacceptable.
" People are sick and tired of our railway being blocked, Crosscountry trains being cancelled due to waves at Dawlish and our region being neglected.
"It is time for the region's politicians, business and voters to speak with one voice: give us the funding we need and give it to us now."
Exeter MP Ben Bradshaw agrees:
This is absurd. Are we to lose our main rail line every time there's a high tide & strong winds forecast? Illustrates why we need a resilient Dawlish avoiding route on which there has been zero progress. https://t.co/kMLJ3JFEd8

— Ben Bradshaw (@BenPBradshaw) November 6, 2018
Work on the breakwater at Dawlish, to protect the seawall will start in the coming weeks.
Network rail say they are currently using £15m of funding from the department for transport to design solutions for the railway through Dawlish and willl be going out to consultation on them next year.