Spire Gatwick Park Hospital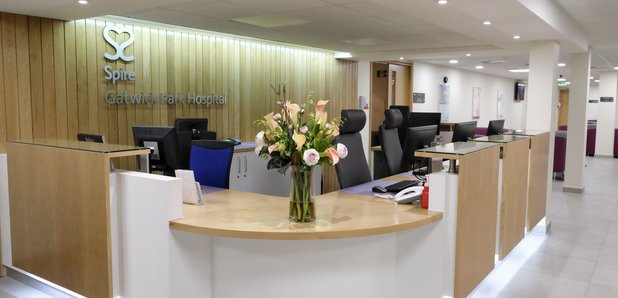 Spire Gatwick Park Hospital is a leading private hospital, located on the Surrey and Sussex border close to Gatwick Airport, within easy access of the M25 and M23. They are dedicated to providing the highest quality of patient care for private, self-pay and NHS patients.
Their modern and immaculate hospital has full multi-disciplinary medical teams on-site including physiotherapy, pathology and pharmacy. They practice some of the most advanced treatments on the latest generation imaging, and diagnostics technology.
This means they can offer everything from screening and rehabilitation through to leading-edge surgical procedures and excellence in specialist fields like ENT, general surgery, gynaecology, orthopaedics, pain management and urology - all delivered through our expert and caring clinical teams. The hospital has 3 operating theatres, endoscopy suite, 44 single private rooms, 2 critical care level 2 rooms, a 16 bedded day care unit and 12 consulting rooms.
Gatwick Park Hospital prides itself on its Children and Young People service and is the only private hospital in the area to offer a full paediatric service. They create an environment that is relaxed and comfortable and one of the ways we do this is by letting young children to drive themselves to the theatre in a remote-control car.
Their new Private GP service offers patients the ability to book a 30 minute appointment, giving them the time they need to discuss all of their health issues and concerns, with easy access to further tests and onward specialist referrals.
Find them:
Gatwick Park Hospital
Povey Cross Road
Horley, Surrey, RH6 0BB
Tel: 01293 785 511