45,000 Enjoy Wildlife Festival
12 June 2017, 06:25 | Updated: 12 June 2017, 06:27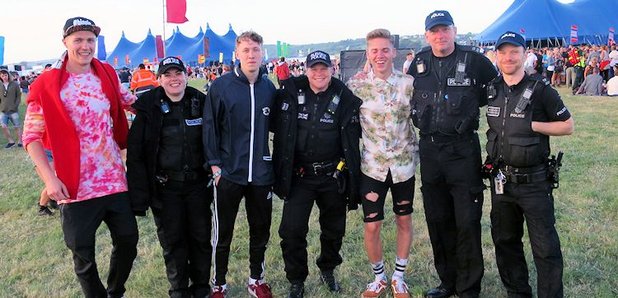 More than 45,000 people flocked to Shoreham Airport on Friday and Saturday (June 9-10) for the 2017 Wild Life music festival with Sussex Police undertaking a full scale operation to see that those attending did so safely and securely.
Following incidents elsewhere in the country over the past few weeks, armed officers were deployed to the festival for the first time, along with specialist drugs officers and dogs aiming to disrupt suppliers entering the site.
Nearly 100 people were dealt with by police, all bar six on suspicion of drugs offences, most of them being ejected from the festival having had an array of illegal drugs seized. Twenty people were arrested on and around the site over the two days, mostly for drugs offences, but two for assault and one for robbery. Fifteen cannabis warnings were issued and 59 offences were dealt with by way of community resolution.
Superintendent Jim Bartlett said: "We worked closely with the organisers, SJM Concerts, along with emergency services and local authority partners to provide a safe and secure festival where tens of thousands were able to enjoy the event.
"An event of this scale will inevitably cause a degree of disruption to the local community, but I believe that the problems that did arise were not serious and quickly dealt with. I would like to thank all those involved in its organisation and indeed, the vast majority of those attending, for making it another successful year.
"It is disappointing that there are still those who will use such events to try to sell illegal drugs, but along with the full support of the organisers, we were able to mount a robust operation and seized a significant quantity of illegal substances and made some key arrests. Several people have already been charged with possession offences and face court and there are seven more facing investigation into possession with intent to supply.
"For the first time, we deployed armed officers to the festival following the tragic events here in the UK and elsewhere over the last few months. I was heartened to receive many positive comments on site and also from a large number of people on social media who had relatives and friends attending and were reassured by their presence.
"It was a good opportunity for the firearms officers to engage with festival-goers and explain their role and also to be included in a large number of selfies. They seem to have escaped the facial 'glitterati' trend - not something that could be said of quite a few of the dog handlers and neighbourhood officers!
"Three years on from its launch, Wild Life has established itself as a fixture in the festival calendar and as well as its target audience of young adults, is also popular with young families. We are happy to play our part in doing all we can to continue that fun and friendly atmosphere."