Man Accused of Findon "Road Rage" Stabbing in Court
A man appeared at Crawley Magistrates today charged with murder, after a great-grandfather was stabbed to death in a suspected road rage attack.
79 year old Don Lock was stabbed repeatedly after a minor crash on the A24 at Findon.
A 34-year-old man has been charged with the murder of Donald Lock in Findon.


Yesterday, Matthew Daley, of St Elmo Road, Worthing, was charged with murder and possession of a knife in a public place,

He appeared at Crawley Magistrates' Court this morning and is due to appear at crown court at Hove tomorrow.
Possible "Murder Weapon" Found by Police
Forensic officers are examining a knife they believe was used in Thursday's fatal road-rage attack in Findon.
Police say they 'seized' the knife but are not saying where it was found.
A post-mortem examination has confirmed the victim, great-grandfather, Don Lock, 79, died from multiple stab wounds.

Mr Lock was a life-long Albion fan. As a mark of respect the players wear black armbands for their friendly at Lewes and hold a minute's silence before kick off.


The family of Don Lock has issued the following tribute:

"Don has been a keen cyclist since the age of 12 and had been an active member of the Worthing Excelsior Cycling Club since 1960. He was not your typical great grandfather and was still cycling up to 150 miles per week. He still holds the club record for the 24-hour time trial having remained unbeaten for 44 years.

"He was full of energy having recently been given the all clear from cancer. Not only was he passionate about cycling but he had also been supporting Brighton and Hove Albion since the 1940s and was a season ticket holder.

"He loved travelling the world with his wife Maureen and he adored his family. He and Maureen had just celebrated their 55th wedding anniversary.

"Don leaves son Andy, daughter Sandra, four grandchildren, and five great grandchildren with the sixth great grandchild due later this year. Don had lived in Worthing for 55 years and was a popular member of the community.
"He was hugely loved by his family and friends and could often be called upon for his cycling or travel advice. Words cannot describe how much he will be missed."

The family have asked for privacy during this hugely distressing time.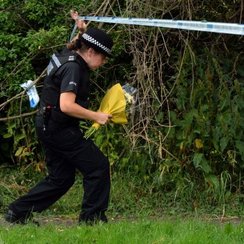 Flowers were placed at the scene and tributes were paid to Mr Lock, a married grandfather.

John Lucas, who had known Mr Lock for more than 50 years, said: "It's such a terrible thing. He was an unbelievable guy. He would do anything for anyone.

"I can't understand how it happened. He wouldn't have got out of the car and caused any trouble at all.

"He wasn't that type of guy. He has been in the cycling club - Worthing Excelsior Cycling Club - more than 60 years.''

Among the floral tributes at the scene was one bouquet left by a distraught-looking woman and man who hugged each other by the cordon.

Part of their card read: ``Grandad, there are no words to express how I'm feeling. I have lost a very special grandad. My only grandad. I love you so much.

``You will be truly missed by so many people. I just wish I could hug you one last time.''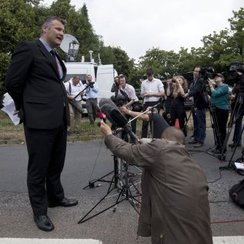 At a press briefing, Mr Hibbert told reporters that Mr Lock, who lived in Worthing, had suffered "multiple stab wounds'' and had been the victim of a "frenzied attack''.

Mr Hibbert said: ``A man is in custody on suspicion of murder. I continue to appeal to anyone who witnessed the collision on the A24 at 8.40pm last night, or who may have CCTV or dashboard cameras of the area at that time, to come to assist our investigation.''

Officers were carrying out house-to-house inquiries as locals described their shock at such an event happening in a sleepy village close to the Downs.

Laura Muchmore, 21, who works in a garden centre close to the murder scene, said: "It's really shocking for an area like this.

"Nothing ever happens round here. And it's especially shocking that the victim was an old man. Findon is a really lovely little village. It's so picturesque and it's not known for this type of crime.''

Another resident, who declined to be named, said: ``It's horrendous. It's such a quiet little village and so unusual for something like this to happen.''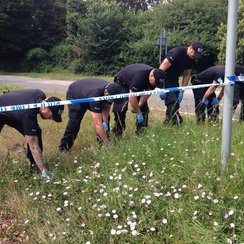 Police teams carried out fingertip searches of the undergrowth down the middle of the carriageway where the attack happened.

Tribute From Worthing Excelsior Cycling Club

'Don Lock was a kind, gentle, fair man and a good friend.

He was a key member of Worthing Excelsior Cycling Club - in fact the back bone of the Club for many, many years. He was also well respected throughout the cycling fraternity.
He was a member of Worthing Excelsior Cycling Club for about 50 years and served the Club well in many different roles.
Don was an enthusiastic member of the Club and, although he no longer raced, would always support the Club in it's many ventures and would offer support, guidance and encouragement to all.

His death will be an irreplaceable loss to the Club.

Our thoughts are with his family to whom the Club will offer our total support at this tragic time.'


Sussex Police Say Anyone with information should call 101 quoting Operation Wise, email 101@sussex.pnn.police.uk or call the independent charity Crimestoppers anonymously on 0800 555111.