Amex £5m Upgrade
3 May 2017, 10:33 | Updated: 3 May 2017, 10:34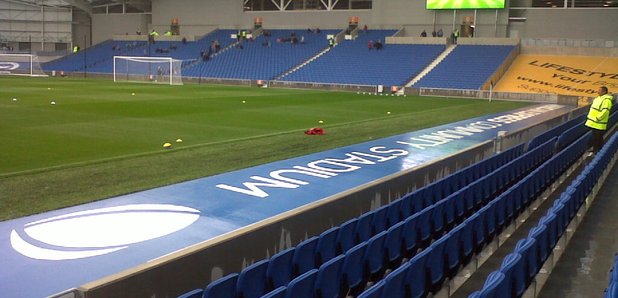 The Amex is set to have a £5m upgrade so it's ready to host Premier League Football from next season.
Brighton & Hove Albion's American Express Community Stadium will have quite a face lift:
The lounges for players and managers will be upgraded ready to welcome some of the most famous national and international players as well as their wives and girlfriends.
Also included in the long list of works is replacing the existing floodlights with a new LED system; a new additional TV gantry will be installed and an additional TV studio and hospitality area added in the south-east corner.

The media facilities will be improved to provide six interview areas for UK and global broadcasters, while the post-match press conference area will be upgraded.

Supporters will be able to dine in the new matchday restaurant - to be added in the East Stand.

Albion executive director Martin Perry, who celebrated his 20th anniversary with the club this week, has a busy summer ahead overseeing the improvements.

He says "While Chris Hughton, Tony Bloom, Paul Winstanley and Paul Barber have a busy summer ahead in terms of player recruitment - the project team have a huge amount of work to undertake to ensure the stadium is ready for Premier League football next August.

"It's something we've been planning for a long time, and the plans have evolved in the past four or five years, as each year the requirements change, but we are thrilled that thanks to Chris and the players' achievements we can finally put the plans into action.

"It's also yet another huge financial outlay, and on behalf of all Albion fans I would like to add my thanks to Tony - without him none of this would have been possible. I'm absolutely delighted for him and his family, as this means so much to them."