Arundel: Route for A27 bypass announced
11 May 2018, 11:41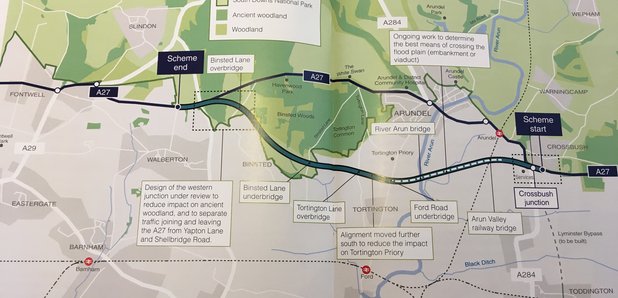 The preferred route for the A27 Arundel bypass has been announced. Officials say they've done all they can to minimise the environmental impact but campaigners are not happy. Read what they have to say.

As part of the £250m scheme, three options were put to the public for views between August and October last year.
Highways England says the project will speed up journeys, improve safety and respect the area's special environment and cultural heritage.
Route 5a has been moved south from the original option to minimise the impact on Tortington Priory but it goes through the South Downs National park and Ancient Woodland near Binsted.
Gillian Brown, the leader of Arun District Council told Heart the impact of not building a bypass would be worse bearing in minfd Arun has to build 20,000 new homes in the next twenty years increasing traffic levels.
Bob Lanzer of West Sussex County Council says wildlife habitat will be relocated if necessary and the new route will cut pollution levels and journey times.
This is the statement from the Arundel Bypass Neighbourhood Committee (ABNC).
"This road scheme would wreak an incredible trail of destruction," says Emma Tristram, secretary of the Arundel Bypass Neighbourhood Committee (ABNC). "It would destroy part of the South Downs National Park, decimate ancient and ecologically important woodland, and devastate the two historic villages of Binsted and Tortington".
"It would also lead to a huge increase of traffic in Walberton, particularly on the semi-rural road, already at capacity, which leads to the new junction," she adds.
"The fight against this extraordinarily damaging road scheme has only just begun!"
ABNC point out that this damage was heavily disguised in Highways England's 2017 consultation by a series of gross omissions and misinformation. Campaigners say the consultation was angled to get people to vote for this route and included the following errors:
- Highways England stated 5A was '500m north' of Binsted. In reality 5A would split the village - on a high embankment.
- Historic Binsted Park was claimed to be 'outside' the scheme and its existence hidden by misuse of its name. In reality 5A would destroy it.
- A Highways England press release stated 5A passed 'between' the National Park and Binsted Woods. In reality 5A would pass through and destroy parts of both.
A longer analysis of Highways England's omissions and misinformation can be found on www.arundelbypass.co.uk.
ABNC says it will challenge Highways England's decision on a number of counts.
The group believes consultations are meant to be fair and give accurate information. Based on the errors and bias in the consultation, which prejudiced it in favour of 5A, ABNC will consider asking for a Judicial Review of the Preferred Route decision.