Beach Clean As White Substance Appears
6 April 2016, 11:29 | Updated: 6 April 2016, 12:11
Extra Patrols Along Sussex Beaches, Dog walkers warned white substance could be harmful to dogs. Spotted in Lancing, Shoreham, Worthing, aswell as Hove, Brighton and Rottingdean
Adur & Worthing Councils' Parks & Foreshore team reacted to public reports of a fresh wave of 'a wax type substance' being washed up along the Adur and Worthing coastline.
The Councils' combined Parks & Foreshore and Cleansing teams were able to initiate a clean up plan straight away as they have recent experience of clearing up this type of substance.
Also, given it's current clump like state, it makes it easier to pick up and clear, but if left would become smaller in size and harder to pick up, resulting in a less efficient and timely clean up.
As before, we ask that members of the public and dog owners stay clear of the white, wax like clumps. Although not toxic, the clumps are messy, can stain clothes and is unpleasant for dogs if consumed.
Samples have been collected and sent to a specialist laboratory for formal analysis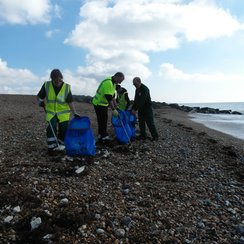 Meanwhile Brighton and Hove City Council asking dog owners and dog walkers to keep a close eye on their dogs on local beaches.
Small amounts of suspected solidified palm oil have washed up on local beaches in Brighton & Hove. The palm oil deposits are white lumps that look a bit like candle wax and can smell rotten.
Dogs will often eat it if given the chance but this can make them very ill.
Our seafront and cleansing teams are working together to spot and dispose of the palm oil and have put up temporary signs alerting dog walkers to the possible danger.
Much larger amounts of suspected palm oil have washed up recently on Rottingdean, Lancing and Shoreham beaches.
If you spot any suspected palm oil on the beach please contact the council's seafront team on 01273 292716