Brighton Cafe Break In Overnight
17 August 2015, 17:41 | Updated: 17 August 2015, 19:38
Police are appealing for witnesses to a burglary at Graces Place café in Madeira Drive, Brighton, at 12.47am on Monday (17 August).


CCTV shows three men taking a safe containing £45,000 from the café before loading it into a white Ford Transit van and driving away east on Madeira Drive.

It is believed sledge hammers were use to make two holes in the wall to get inside the café.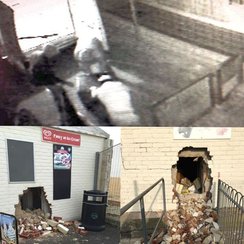 PC James Breeds said: "Making these holes would likely have caused a significant amount of noise and it's possible members of the public who live nearby may have heard something.

"Please contact us if you witnessed this incident or have any other information about who the suspects are to help with our investigation."

Any witness or anyone with information about the incident is asked to email 101@sussex.pnn.police.uk or call 101 quoting serial 158 of 17/08. Alternatively, call the independent charity Crimestoppers anonymously on 0800 555 111