Brighton & Hove: Binmen To Strike Again
4 February 2015, 14:25
GMB have announced today further strike action in their on-going dispute with Brighton & Hove City Council over pay and grading for refuse and recycling drivers.
The GMB statement
The drivers, who will potentially set in motion a process of escalating industrial action, will take strike action in this instance on Feb 11th from 12.01am until 11.00 am in a bid to finally convince senior management to seriously seek an equitable resolution to this long standing issue.

Mark Turner GMB Branch Secretary said:
"Once again council officer's lack of both commitment and ability to finding a resolution has meant our members are left again with no alternative other than to take further direct action. They will lose money and the people of this city potentially will see rubbish remaining uncollected, something that we and they deeply regret.

"But our members completely refute council claims that an independent job evaluation has been carried out on their role. The make-up of that panel, on behalf of the Council, has and would prohibit it from being so, therefore simply challenging a process and outcome from a panel they have no faith or trust in, through potentially another biased panel for an appeals process is both a waste of time and would only seek to widen the mistrust further between drivers and management.

"Our request to see a return to the initial evaluation process and a panel who are openly transparent and fair has been refused, and therefore the council has not only managed to snatch defeat from the jaws of victory, but increase the differences between both sides to a point where it's now difficult to do anything other than clash head on again.

"If the council spent less time trying to trick, cajole and intimidate their way to a solution and instead accept they had not handled the job evaluation in a correct manner, then we perhaps we can finally get around a table with some belief that an equitable solution was not far away, and that the job evaluation and any result it throws up could be trusted."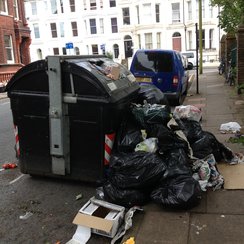 Picture taken during bin strike of 2013