Brighton Top For Families
30 May 2019, 11:27 | Updated: 30 May 2019, 11:31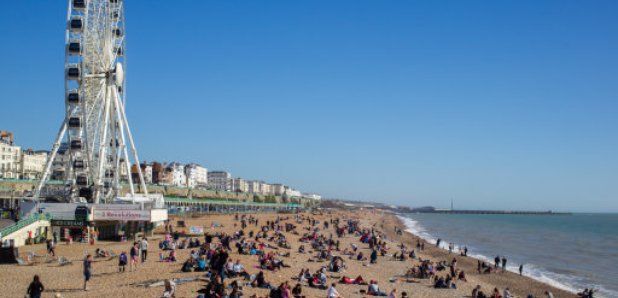 Brighton has come 2nd on a list of the best UK seaside destinations for families, according to a new study
Researchers looked at a variety of factors including number of beaches, average temperature, family friendliness, cost of an ice cream and number of Instagram hashtags.
It came just behind Bournemouth which was named the best seaside town for 2019, and just ahead of Torquay which finished in third, Weymouth in fourth and Blackpool in fifth.
The study also revealed Brighton as the most Instagrammed seaside resort, matching the city's creative and vibrant reputation, topping the rankings for both hashtags and check ins on the social media platform.
As well as revealing the best seaside destinations in the country, the study by dayoutwiththekids.co.uk also revealed the key elements making up the ideal seaside holiday, with a survey of over 2,000 people.
Despite 85 percent of the nation saying clean, sandy beaches are key to an unforgettable ideal UK beach holiday, that hasn't stopped Brighton's famous pebble beach being named amongst the most popular coastal destinations.
Child-friendly places to grab a bite to eat and great fish and chips were both considered equally important too (70 percent) - with Brighton scoring highly for both.
When at the seaside, collecting shells and stones (73 percent), having an ice cream on the beach (72 percent), tucking into a picnic (65 percent) and simply listening to the sound of the sea (65 percent) made the list of the nation's favourite seaside activities.
Brighton also topped the table for the number of visitor attractions nearby, giving families plenty of options to enjoy away from the beach - perfect for keeping kids entertained on a longer staycation break.
Lisa O'Keeffe, Senior Brand & Content Manager at dayoutwiththekids.co.uk, said: "Going to the seaside is a staple part of British childhood, and as the research shows, it's still a firm favourite for families. UK seaside resorts have benefitted hugely from the rise in staycations in recent years, and as the trend continues to grow, it's really exciting to see all the towns on this list really embracing family visitors and improving their offer.
"Brighton is an incredibly popular seaside town, and being easily commutable from London makes it a really viable option for city dwellers to escape for some sea air! We're thrilled to be able to award Brighton gold status this year."
Howard Barden, Head of VisitBrighton, added: "We are delighted that Brighton has been named as one of the best seaside cities for families, although of course we are not surprised as where else can you ride a ghost train, play golf with neon dinosaurs, have sharks swimming above you and enjoy 360° views from 450 feet in the air?! Brighton has always been a popular destination for families and we are sure that this tradition will continue for many years to come!"