Brooklands Lake Reopens
8 September 2018, 11:43 | Updated: 8 September 2018, 12:39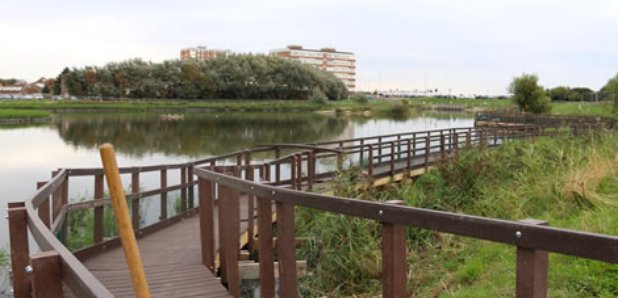 A huge project to revamp the lake at Brooklands in Worthing is due to finished this weekend.
it's taken 10 months to complete the makeover - with around six Olympic swimming pools worth of material shifted
Worthing Borough Council commissioned Five Rivers to undertake a six-figure restoration of the landmark after locals became concerned about the build-up of silt in the eight-acre lake.
With six Olympic swimming pools worth of material shifted and a range of new wildlife-friendly environments created, the area has been transformed into a vibrant place for flora and fauna.
The centrepiece is a new 105-metre boardwalk which allows visitors to stroll along a reed-lined pathway and get closer to the vast array of wildlife already repopulating the lake.
Council leaders praised the contractors behind the work - and also confirmed that a masterplan for the wider transformation of the park would be revealed in a matter of weeks.
Councillor Edward Crouch, Worthing Borough Council's Executive Member for Environment said:
"The transformation of Brooklands Lake has been astonishing - it's been a really important piece of work that was highlighted and done in consultation with residents."
"As a result of the investment, the water quality is much better, the habitat has been improved and we are really making Brooklands fighting fit for the future."
"Now this is complete we appreciate that people now want us to push on with transforming the rest of the park. Rest assured we have been working hard behind the scenes on the masterplan and hope to be able to reveal our exciting plans in the next month or so."
Work began on the revamp in October when Five Rivers began draining the lake. Teams then used excavators to move more than 15,000 cubic metres of silt at the bottom to create new margins and an extra island to provide a habitat for birds and other wildlife.
To avoid similar problems in future Five Rivers have narrowed the Teville stream in Valley Gardens to increase water flow which means future sediment is deposited in the wider area in front of the café.
This 'sediment trap', along with the ramped access point from Western Road, will allow easy access when material needs to be removed from the bottom of the lake in future years.
Already the quantity and variety of wildlife is on the rise - with cormorants, heron, egrets and swans all happily enjoying their new surroundings. A turtle has also been spotted on one of the islands.
Five Rivers have spent the past couple of weeks finishing off the final sections of the project, which includes a boardwalk and duck house. While some planting and remedial works remain, the removal of the fencing in the coming days will mark the reopening of the lake to the general public.
Ben Sharp, project manager for Five Rivers, said:
"We've really enjoyed being able to work on restoring Brooklands lake."
"It's been a great project, even though much of it has seen us wading through mud during an extremely cold and wet winter. A particular highlight was finding a snapping turtle in the mud."
"We're literally just finishing the last few metres of the boardwalk now which means that this weekend we'll be finished here and the council and residents will have the lake back."