Check Out These Lifeboat Lifesavers!
11 June 2018, 07:56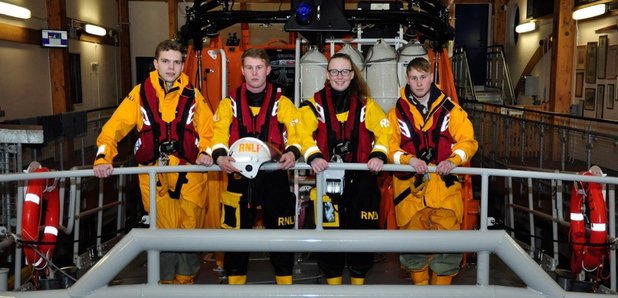 It is Volunteers' Week and Shoreham Lifeboat Station has been pushing the boat out to show how recruiting crew from all ages and backgrounds is vital to saving lives at sea, with even teenage volunteers ready to dash out of classes at a moment's notice when their pagers go off.
Shoreham has been particularly successful in attracting young people to join the crew and now has four teenage trainees, Charlie Cullen, aged 17, Isobel Tugwell, 18 and twins George and Harry Hubbard, both 18.
Charlie and Isobel are the third generations of their families to join the crew. Charlie's dad, Rob Cullen, is crew and a navigator on the all-weather lifeboat (ALB) and helm on the inshore lifeboat (ILB), while Isobel's dad Simon is second coxswain on the ALB and also helm on the ILB. George and Harry are both at work, but Charlie and Isobel are still at sixth form together and have permission to leave and attend shouts while in class.
George and Harry also have a family connection at Shoreham, being the second generation of their family to serve and their elder brother Chris is a senior helm on the ILB. The four teenagers all started their inshore lifeboat duties earlier this year.
Isobel, who joined the RNLI on her 17th birthday, as did her dad, has been speaking about how she grew up around the lifeboat station, following her grandad and dad onto the boat:
'I love helping people and making a difference as a lifeboat crew member,' she said. 'The training is challenging, but enjoyable and I am learning all the time'.
As well as attracting youngsters, which is vital to ensuring the future of the station, Shoreham has also been successful in recruiting women to the crew. In addition to Isobel, who is a trainee, Hazel Condell and Lynzi Mulford have both passed out as crew with Hazel now training as an ILB helm.
'We feel it is important that women are represented at Shoreham Lifeboat Station and within the RNLI and are part of the lifeboat family,' said Shoreham Lifeboat Press Officer Michelle Tugwell. 'Women have a lot of qualities and strengths they can bring to the role. However, we also feel that we are one team at Shoreham, working together to help save lives at sea'.
The RNLI has almost 5,000 volunteer crew members and many thousands more carrying out important roles such as community safety volunteers, education volunteers, shore crew (who help launch the boats) and community fundraisers. Almost thirty thousand people give their time freely to the charity, making up around 95% of RNLI people.
Although some of those who join the charity have a maritime background this is becoming increasingly rare and today only one in ten of those volunteering for the RNLI have previous experience of the sea. The RNLI offers world class training for volunteers. You can volunteer for the charity from the age of 13 and we welcome anyone who is committed to the charity's purpose of saving lives at sea.
For more information about volunteering for the RNLI see the RNLI website: www.rnli.org/support-us/become-a-volunteer
Photos:
Photo One: L-R Charlie Cullen, George Hubbard, Isobel Tugwell, Harry Hubbard.
Photo Two: L-R Michelle Tugwell, Lifeboat Press Officer and Station administrator, Hazel Condell, Isobel Tugwell and Lynzi Mulford (all lifeboat crew).