Cocaine Worth £535,000 Seized At Gatwick
15 October 2018, 17:57 | Updated: 15 October 2018, 18:00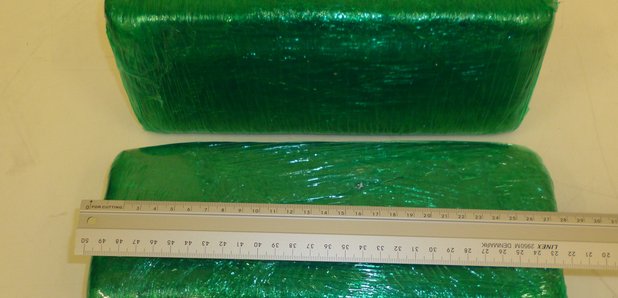 Two men from Barbados have been jailed for a total of 13 years after pleading guilty to attempting to smuggle an estimated 8.5kgs of cocaine into the UK.
Border Force officers stopped 62 year old Grantley Herbert Thompson, 62, and 30 year old Jamal Ricardo Walcott 30, in the customs channels at Gatwick Airport's North Terminal.
They had arrived on a flight from Barbados.
During a search of their baggage officers discovered a white powder, wrapped in green plastic, and hidden inside boxes marked rum.
The powder was tested and was discovered to be cocaine.
Chris Capel, Assistant Director of Border Force South said:
"This was a deliberate, if unsophisticated attempt to smuggle dangerous Class A drugs into the UK and I commend the Border Force officers whose work ensured that Thompson and Walcott are now behind bars.
"Illegal drugs have a significant impact on our society, being the root cause behind countless burglaries, thefts and robberies.
"They are also used as a commodity by organised criminals linked to violence and exploitation of the vulnerable.
The case was referred to the NCA and Thompson and Walcott were charged with importation of a class A drug.
On Thursday, 11 October the pair appeared at Croydon Crown Court where they admitted the smuggling attempt.
Both were sentenced to six years and six months imprisonment immediately.