Corrupt Surrey Hospital Manager Jailed
8 January 2017, 06:02 | Updated: 8 January 2017, 06:06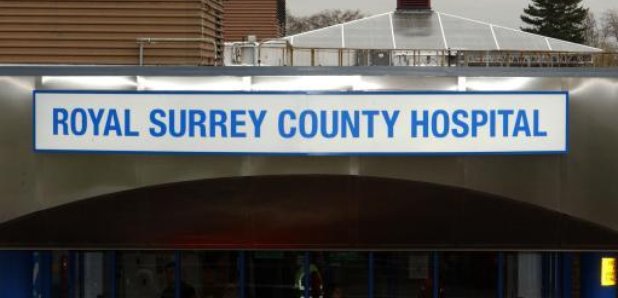 A manager at a Surrey hospital has been jailed for demanding £90,000 in kickbacks for awarding a major IT contract.
Peter Lewis, 57, who was associate director of IT for the Royal Surrey County Hospital, pleaded guilty to receiving payments from Richard Moxon, 41, from Cheshire, in return for awarding him the ICT contract worth £950,000 in the first year.
Lewis was jailed for three-and-a-half years, Moxon for 14 months.
Guildford Crown Court heard that the allegations came to light after Lewis had an affair with a female member of staff at an HR company leading to him being investigated for "unfairly favouring'' the firm.
A search of his computer found a batch of emails that Mr Lewis had sent to himself containing invoices for the corrupt payments which were worth more than his annual salary.
The corruption also led to Lewis's wife, Sue Lewis, who was the trust's chief operating officer and deputy chief executive officer, quitting her role although there was no suggestion she was involved.
Judge Stephen Climie said the corruption was a crime against the financially-constrained NHS.
He said: "Those charged with the financial management of the system are holding the very purse strings that can ultimately prevent pain and suffering or even death of patients.
"That role of financial management within the NHS was held by you Lewis in part when you became associate director for IT at the trust in 2009.''
The judge disqualified both defendants from holding the position of director for 10 years and said confiscation proceedings would be held at a future date.
Christine Agnew QC, defending Lewis, said: "His fall from grace has been spectacular, he was a hard-working man who has really sought for all his working life to succeed.
"He became obsessed and became a workaholic and allowed the fact he was in debt and working so hard to cloud his otherwise impeccable judgment.''
Detective Superintendent Karen Mizzi, of Surrey Police, said: "Peter Lewis sought to greedily divert money from the NHS into his own pockets. While I am glad to see justice being served through his custodial sentence, my team is now focusing on recovering the money Lewis made from his crime, and returning it to the NHS.
"I hope Richard Moxon's sentence will act as a warning to other public sector suppliers, who may be tempted to go along with a fraud rather than reporting an approach to the relevant authorities at the earliest opportunity.''