Cycling Postman From Hove Takes On Tour de Yorkshire
5 May 2019, 12:56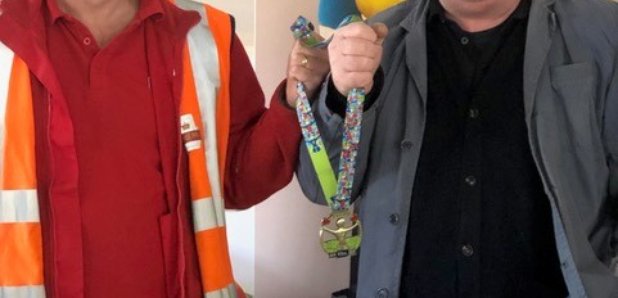 A postman from Hove is taking on a leg of the Tour de Yorkshire after being inspired by the event's official artist while delivering their mail.
When Melvyn Yeo dropped off post to the event's official artist Mackenzie Thorpe's studio in Hove and decided to get involved.
He'll be tackling the gruelling Tour de Yorkshire Ride in aid of a Sussex homeless charity.
Alongside an official collection of artworks that include canvas, pastel pictures on paper, sculpture and posters, Mackenzie has designed the medal for the Ride which will be handed to over 4,500 participants. Melvin will also receive one of the official medals when he crosses the finish line.
Proceeds from Mel's efforts will be going to Sussex Homeless Support, another address Mel delivers to on his round and a cause close to his heart, as he sees for himself many homeless people on his rounds. The cycling postman hopes to raise £1,000 for the charity to provide a bus for the homeless to sleep on as well as food, clothes and support.
Postman Mel said:
"It's going to be an incredible challenge. I hope I'll be able to hold my own on the route but more than anything it's a fun way to get involved in this well-known race and raise some money for a good cause."
Artist Mackenzie Thorpe is supporting him all the way:
"Everyone at my studio loves Mel, he's really friendly and nothing is too much trouble for him, the perfect postman really. When he heard about my involvement with the race and saw some of the bits and pieces we were working on, and as a keen cyclist you could see he was interested.
"It's a really long way for him to travel to the race, he normally just takes part in races in the south east, but he didn't need that much encouragement when we told him about how fantastic the scenery is in Yorkshire and what the atmosphere will be like. He's doing the long race and we are so proud of him, especially as he is raising money for a local charity around the corner from us.
"It's a real privilege for me to be part of the race this year, and fantastic that our own local postie is prepared to make the effort to take part. I'm looking forward to hanging the medal I designed round Mel's neck when he finishes."