Sussex: Drug Drivers To Be Tested By Officers
2 December 2013, 06:00
Officers will use drug testing equipment at stations to check if motorists they have arrested have taken illegal substances and then got behind the wheel.
(Picture shows Sussex Police and Crime Commissioner testing out the equipment)
It is the first time Sussex Police has used the equipment and shows the force's commitment to dealing with all motorists who get behind the wheel while unfit.

Previously officers used what are known as field impairment assessments to determine if they believed a motorist had been taking substances.

They include looking at the reactions of the driver's eyes as well as their balance and co-ordination.

They would have to get a doctor to do a blood test on the driver to test them for drugs.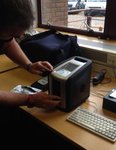 The new equipment will allow officers to prove if they have taken cannabis in a matter of minutes using a simple swab.

Chief Inspector Natalie Moloney said: "Studies show that taking drugs and driving can be as dangerous as drinking and then getting into a car.

"There is simply no excuse for it.

"Before you get behind the wheel after taking drugs, ask yourself these simple questions. Can I afford to go to court and be banned from driving? Do I want to risk spending Christmas behind bars? Could I live with the guilt of killing someone because of my selfishness? Would my family cope without me?

"If the answer to any of those questions is no, you have the power to avoid facing those situations.

"Help us make Sussex's roads safer this Christmas by steering clear of drug driving."

Sussex Police and Crime Commissioner Katy Bourne welcomed the new measures to target people who drive while under the influence of drugs.

She said: "During my election campaign I pledged to lobby Government to make driving under the influence of drugs as equally unacceptable as drink driving. I welcome this move by Sussex Police to use Home Office-approved drug screening devices in custody suites over the Christmas period.

"I believe screening of this nature is an effective deterrent and I will be supporting investment in technology that enables officers to make these checks.

"Residents have told me that road safety is one of their main concerns and I am determined to tackle this problem during my term in office.

"I would like to see communities becoming more involved in playing their part in making Sussex safer by supporting initiatives like Operation Crackdown to tackle antisocial driving. Safer roads and communities can only be created by working together and sharing the roads responsibly."

The drug testing will be carried out as part of the month-long drink-drive crackdown across Sussex.

Unmarked patrol cars will be used to look for motorists who show the signs of driving while under the influence of drink or drugs. You can expect to be pulled over if you are driving badly.

We will also draw on the expertise of our staff who speak different languages to help us when speaking to other nationalities, for example in Arun we have some who will be able to speak to Polish-speaking drivers should they be stopped during the campaign.

Officers will tweet about drink or drug driving and the details of all those charged with offences will be released. This may seem harsh to some but we need to exert all the influence we can to deter drivers from drinking or taking drugs.

Educational activities will be run at sites across the county to spread the message about the dangers of drink or drug driving and a series of hard-hitting videos have been produced.

People in Sussex can text officers on 65999 with details about people they suspect of drink or drug driving. To report incidents of antisocial driving call 101 or visit www.operationcrackdown.co.uk.

If you know someone is driving after drinking or taking drugs call 999.
Hear our interview with Sgt Stuart Goodwin
Sgt Stuart Goodwin - drugdrive