Eastbourne Family Face Visa Application
8 April 2016, 07:06 | Updated: 8 April 2016, 09:14
The immigration minister has said they will look again at a case of a family from Eastbourne who have been facing being split up due to a visa application.
Katy Garlington is an American mum who has been told she will have to leave the country later this month without her two year old daughter and British husband of 9 years due to how much her husband earns.
More than two thousand people have now signed a petition calling for the decision to be overturned.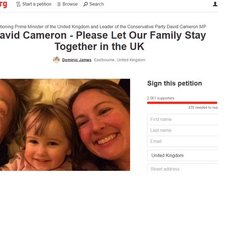 Eastbourne MP Caroline Ansell says she is working with the Home Office to help keep this family together.
Statement from Caroline Ansell MP on the Immigration status of Katy Garlington;
"I'm very pleased for the family that the Immigration Minister James Brokenshire has said there will be a reconsideration of Katy's application.
"This does not mean that the decision has been rescinded, but the letter I have received today makes it clear that a fresh set of eyes will look at the application.
"I think we should be confident that the decision will be reversed on the basis the three have a right to family life under human rights legislation and because of the impact on Madeleine should Katy be forced to leave.
"This has been a very trying time for the family and I hope that tonight they can sleep a little more soundly. I will be working with the Home Office and the family to ensure that this reconsideration goes smoothly.
"There has been much debate over immigration rules in this case, but my focus was always to keep this family together. There are rules, and quite rightly so, but there is also discretion when unique circumstances arise.
"I thank the minister for his prompt response to this issue."