Sussex and Surrey: Weather
15 February 2014, 15:54
Flooding's causing more problems in Sussex and Surrey again.
This video of flooding on Brighton seafront was posted on You Tube by Darren Menezes
More than 8 thousand homes across Sussex and Surrey are still without electricity after winds touching 80 miles an hour brought down power lines

The winds have also disrupted travel across the area
UK power networks say their teams are working flat out to restore electricity to 6 and a half thousand homes in Surrey and nearly 2 thousand in Sussex.
Some homes on the Sussex coast in Peacehaven had their windows blown in

Fallen trees and landslips are disrupting trains services between Redhill and Tonbridge and around Oxted.

Sailings between Newhaven and Dieppe are cancelled.
Click here for the latest on the travel situation today.
Meanwhile 360 military personnel are helping the relief effort in Surrey including 50 reservists.
Assistant Chief Constable Gavin Stephens has told Heart that despite rumours on social media there are no reports of looting from flooded homes. He's also reminding families that with half term starting, children should be kept away from any flood water.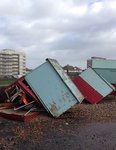 Shingle was thrown up on seafronts completely covering promenades and roads and smashing Beach huts to matchwood. Council staff have spent the day clearing the pebbles and putting them back on breaches,
Flooding's hit an electricity sub station at the sealife centre on Brighton seafront which has had to close after a foot of floodwater got in. Staff are bailing out with buckets; Worthing pier's closed for the day and former Brighton council leader Steve Bassam has tweeted he's trapped inside his house by three trees that have blown down
Keep up to date with all the latest flood warnings and alerts by clicking here to find out if where you are is at risk.
Find out the latest on the weather situation here.


Patcham Latest From Environment Agency
Flooding is expected for Areas at risk of groundwater flooding in Patcham include Old London Road, parts of Church Hill and Mill Road where they meet the A23 and the Recreational Ground and may last .

The water level at the Ladies Mile Borehole at 09:00 Saturday 15 February is 46 mAOD. The level has risen 1 metre in the last 24 hours. If the current rate of rise continues we would expect it to reach 47 mAOD in the next 24 hours. We are expecting, within the next day or two, groundwater flooding to affect properties along Old London Road, affect the foul sewerage systems in the area and have the potential to cause flooding to parts of the A23, A27 and the railway track. The forecast for the next few days is for unsettled conditions. The catchment remains saturated and will be prone to rapid changes if significant rainfall occurs. The flood risk is likely to remain for the time being.