Go Digital: Surrey
16 October 2017, 12:24 | Updated: 16 October 2017, 12:33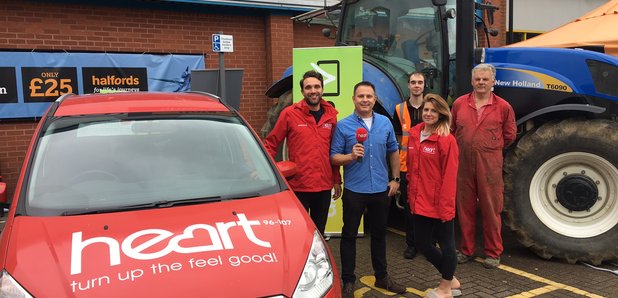 With over 50 DAB digital radio stations available in Surrey, there's never been a better time to upgrade your car radio to DAB digital radio.
It's possible get DAB radio in any vehicle, even a tractor!
Then you'll have a much greater choice, with all your existing radio stations plus many-more digital only stations. There are over 50 stations available on digital radio in Surrey.
Digital radios are easy to tune at the touch of a button. The sound is hiss and crackle free. And there's no need to retune on long journeys. And if you already love listening to your favourite digital stations at home, why miss it in your car?
There are lots of digital radios and adapters available that can be fitted easily and neatly in your car.
How do I get digital radio in my car?
An adapter that attaches neatly to the dashboard and lets you play DAB stations through your existing radio. This can be fitted so there are no trailing wires and it does not involve disturbing your dashboard. They often come with extra features such as Bluetooth and hands free.
A hidden adapter which also uses your existing radio, except you can navigate stations using your car's built in controls.
A new replacement fitted DAB radio. They often come with extra features such as Bluetooth and hands free.
What products are available to upgrade my car?
Look for the Digital Radio Tick Mark on approved products.
Manufacturers with digital radios and/or adapters available include:
Where should I go for my DAB digital radio car upgrade?
DAB digital radio upgrades are available in more places than ever, across Surrey. Get a professionally installed upgrade to your car radio in Surrey and look for the Digital Radio Tick Mark for approved installers.
There are now digital radio tick mark installers on hand to get you fitted quickly and neatly at retailers and garages throughout Surrey; including Halfords, Halfords AutoCentre, KwikFit in Guildford, Carters Car Care, Woodside Garage, Bannings and Cartronics.
They will be able to advise you on the best antenna for your car.
The retailers involved in the Go Digital are:
Halfords Autocentre, 69 Frimley Rd, Camberley GU15 3EJ
Halfords Autocentre, Windsor Way, Aldershot GU11 1JG
Halfords Autocentre, Kingsgrove Industrial Estate, 1-2 Invincible Rd, Farnborough GU14 7SS
Halfords Autocentre, Reliance House, Walnut Tree Cl, Guildford GU1 4TX
Halfords Autocentre, 7, Denvale Trade Park, Haslett Ave E, Crawley RH10 1SS
Halfords Autocentre, Poole Rd, Woking GU21 6DY
Halfords Autocentre, Unit 2 Access Business Park, Chertsey Road, Byfleet, West Byfleet KT14 7FF
Halfords Unit 3, Pricess Way, Camberley GU15 3SW
Halfords B, Farnborough Gate, Farnborough Rd, Farnborough GU14 8BL
Halfords 4, Ladymead Retail Park, Europa Park Rd, Guildford GU1 1AJ
Halfords 92 Royston Rd, Byfleet, West Byfleet KT14 7NP
Halfords 2-6 High St, Godalming, Surrey, Godalming GU7 1ED
Halfords B, Farnham Retail Park, Guildford Rd, Farnham GU9 9QJ
Halfords 3, Lion Retail Park, 151 Oriental Rd, Woking GU22 8BD
Halfords 101-105 High St, Dorking RH4 1AL
Halfords 2, Brighton Rd, Redhill RH1 6QL
Kwik Fit Plus Guildford - Walnut Tree, Unit 1 Riverside Business Park, Walnut Tree Cl, Guildford GU1 4UG
Ian Bannings Car Audio & Security, 35 Moorfield Rd, Guildford GU1 1RU
Cartronics, 22 High Rd, Byfleet, West Byfleet KT14 7QG
Carters Car Care, Vicarage Ln, Capel, Dorking RH5 5LL
Woodside Park Garage, Unit 1A &1B Coopers Place, Combe Ln, Wormley, Chiddingfold, Godalming GU8 5SZ