IKEA Approved For Lancing
4 October 2018, 11:01 | Updated: 4 October 2018, 11:13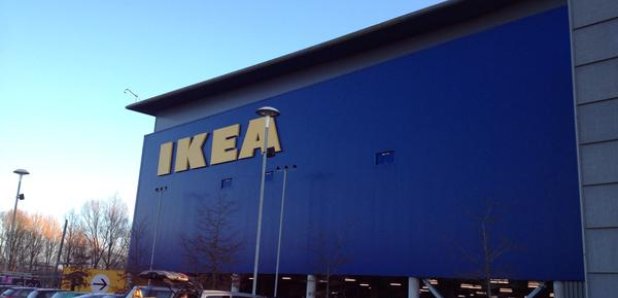 A plan for 600 new homes and an Ikea store near Lancing has been approved by Adur and Worthing District Council.
Councillors from Adur District Council's planning committee came together at a public meeting in Lancing last night.
Well my local town is getting an Ikea!!

— HSTBEN1 (@HSTBEN1) 3 October 2018
They were greeted by a demonstration outside the venue.
Brighton & Hove Friends of the Earth (BHFOE) along with other local groups, such as AREA were protesting outside the Sir Robert Woodard Academy concerned the application's opponents wouldn't get a fair hearing.
At a meeting in July the committee chose to delay the decision.
Whoop whoop - ikea going ahead in Lancing.

Heaven help the A27...

— Chris Duncan-Scott (@ChrisScottBtn) 3 October 2018
Before the meeting Lancing College withdrew their objections to Planning Applications for the Development proposed at New Monks Farm and the Proposed Development at Shoreham Airport.
The College had been in discussion with New Monks Farm Development Ltd, a subsidiary of Brighton & Hove Albion Football Club.
An agreement was signed enabling both the Club and the College to work together to secure an access to the College and Coombes Road from the new junction being constructed as part of the New Monks Farm Development.
Martin Perry speaking on behalf of New Monks Farm Development Ltd said:
"The College have always been concerned that the closure of the Sussex Pad Junction, which is a requirement of Highways England as part of the development proposals for both New Monks Farm and the Airport, would inconvenience parents and students coming to the College.
"We are very pleased to have been able to find a way to work together to secure an access from the new roundabout on our development which will resolve this issue and secure the long-term future of the College"
Dominic Oliver Headmaster at Lancing College said:
"We have been working with New Monks Farm since it is important for us that our students and parents and people using the College are not inconvenienced by these proposals.
"We are pleased that we have been able to reach an agreement and will work together to secure the new access."
As well as the Swedish furniture superstore, and 600 new homes the proposal also includes the provision of a new roundabout on the A27, a country park, land for a school and a community hub.