A Proper Risk Assessment Wasn't Carried Out For The Shoreham Air Show
10 March 2016, 16:58 | Updated: 10 March 2016, 17:49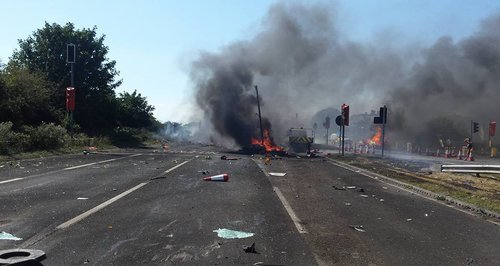 An interim report in to the crash at the Shoreham Air show has found that the organisers were unaware of the pilots display plans.
A report into the crash at last year's Shoreham Air show says organisers failed to do a proper risk assessment.
It says the director wasn't aware of the manoeuvres the pilot was planning to do, before his vintage jet crashed onto a busy dual carriageway.
On the 22nd of August, the Hawker Hunter jet came down on the A27 in West Sussex after failing to complete a loop manoeuvre, eleven men died.
Now we are beginning get more information to try and help us understand what went wrong, it is just over 6 months since it happened.
Our reporter Bryony Waite is at the crash site in Shoreham and has some more details from the new report:
14 safety recommendations have made and we're expecting a full report in to the crash in a few weeks' time.