Latest On Southern Rail Strike
10 January 2017, 06:15 | Updated: 10 January 2017, 13:15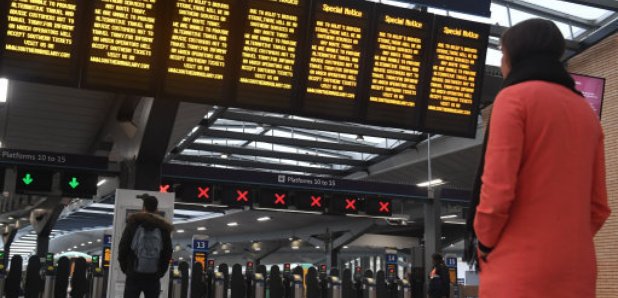 More than 2,200 Southern Rail services are not running because of a walkout by members of the Aslef union in a dispute over driver-only trains affecting 300,000 passengers.
Southern said it ran a handful of trains from Brighton to London early in the morning, driven by driver/managers, and planned to operate eight trains in each direction in the morning and during peak hours between Caterham and London.
These trains are driver-only operated. But the company normally operates more than 2,200 trains a day, carrying 300,000 passengers.
Buses and coaches were laid on but hundreds of thousands of people could not get to work.
Passengers said coaches were laid on outside East Grinstead railway station to go to Three Bridges where trains were running, but most people had taken Southern's advice and stayed at home.
``The private coach operators must be laughing all the way to the bank,'' said one man who did turn up.
Unite members mounted picket lines in the Heathrow area.
A union spokesman said: ``The strike is being solidly supported, and we are receiving support from passing motorists.''
Departure boards at Redhill Train Station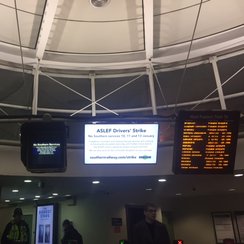 Business leaders have met Government ministers to warn of the ``costly'' disruption caused by months of chaos on Southern Railway.
Chambers of Commerce groups from the South East of England met with Transport Secretary Chris Grayling and Rail Minister Paul Maynard.
The representatives from Hampshire, London, Surrey, Sussex and Thames Valley Chambers, said: ``Business communities and commuters across the South East of England are impatient for action after nearly a year of unpredictable and costly disruption.
``While firms have taken every step possible to support staff affected by strike action, businesses and local economies are hurting. It is incumbent upon all parties in the dispute to come to the table and reach a durable solution.''
Adam Marshall, director general of the British Chambers of Commerce, said: ``Business communities elsewhere in the UK are also watching with great concern.
``A wave of further rail strikes like the one in the South East would hit investment, job creation and confidence, and undermine the livelihoods of millions of people.''
Colin Stanbridge, chief executive of London Chamber of Commerce and Industry, added: ``London businesses and commuters are facing a double-whammy this week as they face disruption from both train and Tube strikes.
``A resolution between all the parties involved in these actions is needed urgently to prevent further and unnecessary disturbances to workers in the City and surrounding areas.''