Lodger sentenced for murder in Worthing
20 December 2016, 12:18 | Updated: 20 December 2016, 12:19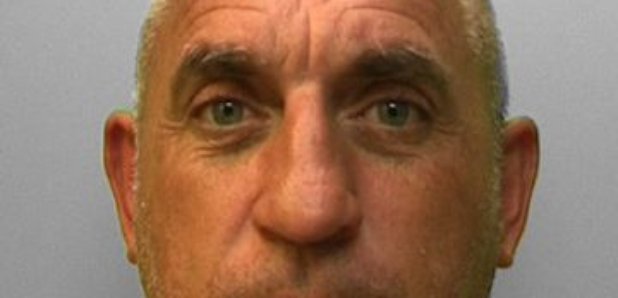 Lodger Alan Knight sentenced for murder in Worthing
Warning: please be aware that some material within this article may cause distress.
On August 9 officers were called to Osmonde Close in the Broadwater area of Worthing where it had been reported to them that a man could be seen lying in a house and there was concern for his welfare. Emergency services attended the house and could see 50-year-old home owner David Bond slumped by the front door.
When officers managed to break down the door, they found he had been dead in a pool of blood with his lodger Alan Knight's bike lying on top of him. It quickly became obvious he had been murdered.
David Bond, a crane operator and owner of the house in Osmonde Close, was last seen alive about 6pm on Saturday, August 6 having been drinking with his friend in The Warwick pub in Worthing town centre.
He arrived home and it is believed an argument began with his lodger and housemate, Alan Knight, 51, about the cleanliness of the house and the state of the microwave. Detectives found this note on the kitchen side next to the sink.
Shortly after David returned home, Knight texted his friend, who lived in Southend, Essex, at 6.53pm to moan about his landlord: "He's just come back from the pub pissed up again. ....Not really sure I want any of this........Might start thinking of a different direction...It's his name on the house and he lords it up. I'll text you when he's asleep."
Following their argument, at 7.16pm he texted the friend again: "He wants me to move out by the end of the month because he's pissed.....Shall I just kill him and you find me somewhere to duck till we get a plan...I'm serious......Fat waste of space.....I'll take his silly little van and dump it in London in the intrim period you do some home work.........Not living like this anymore".
Detectives believed he killed him between 6pm and 8.15pm.
However despite messaging the friend to say he was "only joking" he then sent six Whatsapp images between 9.26pm and 10pm of David's dead body in the hallway of the house they shared. When his friend responded, clearly not believing the images she had been sent were real, "Just a wind up b*****d", Knight replied to say "With my hand on my heart..I swear with all of me it's the truth".
The next morning, Sunday, August 7, Knight took David's vehicle, a red Ford Fiesta van and it drove it to Hove before 8am, seen here on CCTV.
He withdrew £600 from a cashpoint in Church Road, Hove before driving to the Mitcham area of London where he abandoned the car and carried on the rest of his journey to Southend on train to see the friend he had been texting. He stayed the night before travelling back to London. The following night he stayed at a hotel in Luton, by the evening of August 9 he was in Bath having travelled via Nottingham and Cardiff.
At 10.40am on August 9 his friend went to Southend Police Station to say she believed Knight had killed his landlord. Just two hours later, police in Sussex were called to David's address due to concern for him. Officers found he had been stabbed 29 times with a kitchen knife.
By Wednesday evening Knight had travelled to Blackpool via Southampton and stayed for two night. He then handed himself into Fleetwood Police Station, near Blackpool, on August 12 having inflicted injuries on himself and was initially taken to hospital for treatment and then arrested.
Alan's journey can be seen here.
Knight was subsequently charged with murder and pleaded guilty at court on Friday, November 4. He was sentenced on Tuesday (December 20) at Hove Crown Court to life with a minimum of 18 and a half years.
David stepfather, Sonny said: "David was a caring loving son and father to his two sons David junior and Christopher. Out of no reason, his life was taken away cruelly. His mother will miss him very dearly as will I. David was so kind and caring and out of this that caring brought his downfall and caused his death".
Detective Chief Inspector Tanya Jones said: "I am relieved Knight pleaded guilty to his crime preventing David's family having to endure the trial, I hope they can now begin to process what happened to him and look to the future.
"This was a cold and calculated crime which Knight had thought about carrying out and which he executed with absolute clarify. Knight knew exactly what he was doing and confessed he made a conscious effort to evade police in the days after murdering David.
"They met through their work in the construction industry and Knight privately rented from David. They had only lived together about six months when Knight killed him.
"Knight confessed they fell out over the cleanliness of the house and the tipping point was the microwave. His reaction was extreme for something, which in reality, was very small. The level of violence was horrendous as Knight repeatedly stabbed David 29 times."