Man From Worthing Cleared Of Murder, Guilty Of Manslaughter
16 May 2016, 16:29 | Updated: 16 May 2016, 19:06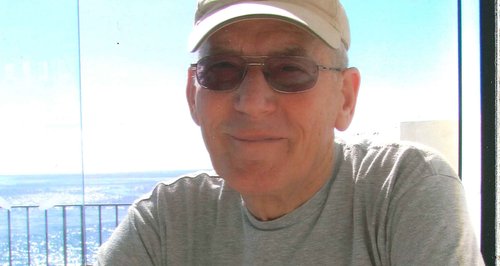 A man from Worthing has been found guilty of manslaughter on the grounds of diminished responsibility after stabbing Don Lock to death after a minor car crash in Sussex.
A mentally-ill man has been found guilty of manslaughter on the grounds of diminished responsibility following the ``road rage'' killing of a retired solicitor.
Matthew Daley, 35, stabbed 79-year-old Donald Lock multiple times on the A24 at Findon, near Worthing, on July 16 last year.
Daley stabbed Mr Lock after his Toyota crashed into the back of Daley's Ford Fusion at about 16mph, causing minor damage to both cars.
Before the killing Daley's family had ``pleaded'' with clinicians to section him as his mental health declined, the trial heard. NHS chiefs have apologised to his relatives for not doing more.
At Lewes Crown Court, Daley was cleared of murder but convicted of manslaughter on the grounds of diminished responsibility.
Donald Lock:
Described as a ``kind, gentle and fair man'', Donald Lock was by all accounts a loving and much-loved family man who lived life to the full.
The 79-year-old retired solicitor had recently celebrated 55 years of marriage to his wife Maureen with whom he had two children, Andrew and Sandra.
At the time of his death on the A24 in West Sussex last summer, he was looking forward to welcoming his sixth great-grandchild into the family.
His killing, as he returned from a social gathering of Worthing Excelsior Cycling Club, was seemingly even more unjust as he had recently been given the all-clear from prostate cancer.
Cycling club secretary Adrian Palmer described Mr Lock as the ``backbone of the club for many, many years'', holding various roles over the years.
And he still holds the club record for the 24-hour time trial having remained unbeaten for more than 40 years. His family have described him as ``not your typical great-grandfather''.
His zest for life had seen him and his wife travel to all corners of the world in the past 20 years, and take part in adventures including walking over Sydney Harbour Bridge and even riding ostriches.
Matthew Daley:
Matthew Daley was an ``ideal'' child before the breakdown of his parents' marriage while he was at university coincided with his mental health decline.
His mother, Lynda Daley, said for 10 years they had appealed for him to receive better care and treatment before he went on to fatally knife Donald Lock following a minor shunt.
Born in 1981, Daley grew up as a ``quiet, shy and respectful'' boy who was ``very studious'', according to his father John.
Mr Daley said he was never a problem as a child and attained sufficient GCSEs to enrol on to a two-year building studies course at Chichester College in West Sussex.
``He just seemed such a shy, quiet and reserved boy,'' Mr Daley told Lewes Crown Court. ``He would never push to the front of the queue and would defer to authority.''
In an interview with consultant forensic psychiatrist Dr Philip Joseph, Daley dated the start of his mental health problems to around the time of his parents' marriage breakdown.
At the time, Daley was studying for an architecture degree at the University of Portsmouth in Hampshire. He failed his first year there but successfully re-sat exams and moved into a flat with five other men.
Examples of ``odd'' behaviour included the time Daley used his student grant to fund an impulsive trip to Argentina to seek out a property he had seen in a book.
Mr Daley said the family were ``beside themselves'' with worry after being contacted by one of his housemates saying he had suddenly taken flight with just the clothes he was stood up in.
Mr Daley said he was so concerned about the episode that he personally saw his son's university tutor. Daley's friends were limited to those he lived with.
As his parents went through their divorce, he was said to have started withdrawing into himself.
However, he graduated from the University of Portsmouth and started work in 2004 at a local practice as a trainee architect but it did not last.
He complained about being unhappy at work and at being teased. ``I think it all got too much for him,'' his father told jurors.
Daley's parents bought separate properties and by Christmas 2004, he moved in with his father following trouble with his mother.
In spring 2005, he moved into a bedsit in Worthing, but complained about neighbours' noise - the first clear sign for his father in hindsight that he was hearing voices.
Despite pleas from his family, particularly his father, over the intervening years for more help with his care and treatment, relatives said they were not listened to.
Mr Daley's fateful predictions that his son could go on to seriously harm someone came to pass with the killing of Mr Lock on the A24 last July.
Shortly before the trial, the chief executive of Sussex Partnership NHS Foundation Trust wrote to Daley's family apologising, but Mrs Daley said it was ``too late''.
Daley's mental health:
After the conviction, Colm Donaghy, chief executive of the Trust, said:
``On behalf of the Trust, I apologise unreservedly because the care we provided to Matthew Daley should have been better. I also want to offer my sincere condolences to the family of Don Lock and everyone else affected by this tragic, devastating incident.
``Mr Daley was referred to our services in January 2008. He received treatment from our early intervention service, which helps people who are starting to experience the symptoms of psychosis. He was later transferred to the care of one of our community mental health teams where he received treatment for a combination of Asperger's syndrome (a form of autism) and psychosis.
``Having reviewed his care, it's clear that we should have reviewed Mr Daley's diagnosis, looked at other ways of providing treatment, done more to help him manage his symptoms of psychosis and listened to his family more closely.
``We got things wrong. But I do not believe that any of our staff acted in a way which was deliberately negligent or designed to cause harm. They knew Mr Daley well and believed they were doing the right things to help him. We will do things differently as a result of this tragic incident.
``The care and treatment we provided will now be subject to an independent inquiry commissioned by NHS England.
``In the meantime, we have commissioned our own independent review, jointly with NHS England, of all homicides from 2011 to 2016 involving patients known to Sussex Partnership NHS Foundation Trust.
``We have done this because we want the public, people who use our services and the organisations which commission them to be assured that we have done everything we should have in response to these tragic cases. We will publish this report in full.''