More Bad News For Southern Rail Users
2 January 2017, 10:23 | Updated: 2 January 2017, 10:26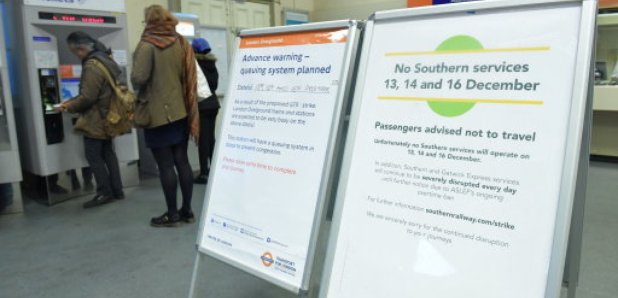 The annual rise has been described by campaigners as ``another kick in the teeth'' for passengers.
Southern passengers will now have to pay an extra 1.8% on their season ticket.
That's despite months of delays and cancellations in Sussex and Surrey- put down to staff shortages and industrial action by members of the ASLEF and RMT unions.
London Mayor Sadiq Khan recently posted figures showing just 56% of Southern trains arrived at their destination on time- the worst performance figures of any rail network in a decade.
Lianna Etkind, of the Campaign for Better Transport, said:
``Today's fare rises are another kick in the teeth for long-suffering rail passengers.
``Many experienced a less frequent and more overcrowded service last year, and now they are required to pay more for the same this year. The whole fares system is completely unfair and its high time the Government overhauled it.''
Bruce Williamson, of independent campaign group Railfuture, said:
``With the chaos on Southern, lacklustre performance in Scotland and stalled electrification on the Great Western main line, passengers are going to wonder what they are getting for their increased ticket price.
``Our walk-on rail fares are already the most eye-watering in Europe, and with fuel duty frozen for motorists for the fifth year on the trot, it can't be denied that people are being priced off the railways.''

Transport Secretary Chris Grayling said:
``We are delivering the biggest rail modernisation programme for more than a century, providing more seats and services.
``We have always fairly balanced the cost of this investment between the taxpayer and the passenger.''
Labour analysis of ticket costs found that the average commuter paying £594 more for a season ticket than when the Conservatives came to power.
Commuters travelling from Brighton to London will be paying nearly £980 more than in 2010 according to its research found.
Shadow Transport Secretary Andy McDonald said:
``Passengers have faced truly staggering fare rises of over #2,000 since 2010. In some cases, commuters are paying 43% as a direct consequence of decisions made by ministers.
``Fares have risen more than three times faster than wages and passengers on some routes have also been hit by 'stealth fare rises' of up to 162%.
``Passengers were always told that higher fares were necessary to fund investment, but vital projects have been delayed by years and essential maintenance works have been put on hold.
``The truth is that our heavily fragmented railways mean that it takes years longer and costs much more than it should to deliver basic improvements.
``The railways need reforms that could be implemented if public ownership was extended to passenger services, but ministers are persisting with a failed model for purely ideological reasons.''