Seagulls Party
29 April 2017, 11:19 | Updated: 29 April 2017, 11:22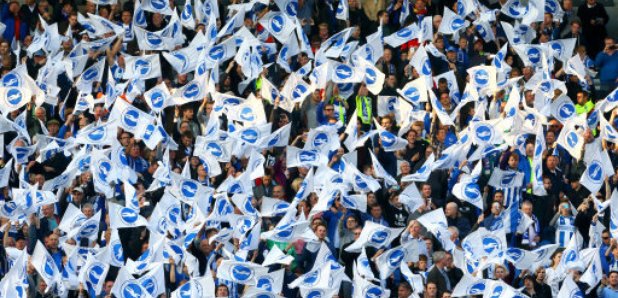 The Amex stadium could be staging its second party in ten days.
On Easter Monday fans were celebrating promotion to the Premier League as their team beat Wigan Athletic 2-0
If the Seagulls beat Bristol City this evening at the Amex in front of a sell-out crowd the club will be promoted as champions.
Winger Solly March says that would be the icing on the cake. He said: "Promotion was the aim and I think we would have settled for that.
"Now we want to lift the title and have a medal to take home at the end of the season."
After the promotion-clinching game against Wigan thousands of fans invaded the pitch. The club are asking fans not to repeat that so the Championship Trophy can be handed over and the players can do a lap of honour with their families.
Albion Chief Executive Paul Barber said: "It was a wonderful day at the Wigan game, and despite our requests, we saw a mass invasion from fans, which was an iconic moment. However, having had the pitch invasion, we would ask the fans to let Chris Hughton, the players and the squad the opportunity of a proper lap of honour - and hopefully receive the trophy!"
Before the game, opera singer Donna-Marie Hughes will welcome the players on to the pitch with a live rendition of the club's anthem Sussex By The Sea. She will also sing Abide With Me in memory of the Albion players and fans who have passed away during the 2016/17 season, including ex-skipper Paul McCarthy and Albion stalwart Paul Whelch.