Police Dog Tracks Down Worthing Drink-Driver
6 October 2018, 07:20 | Updated: 6 October 2018, 07:24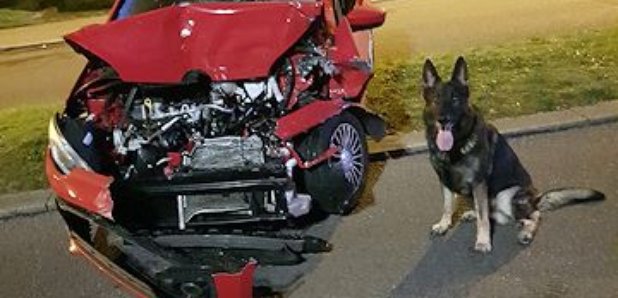 A drink-driver who fled the scene of this crash in Worthing has been tracked down by a police officer and his canine counterpart.
About 4.30am on Thursday 13 September, officers were alerted to a car having crashed into a parked coach at the junction of Wallace Avenue and West Parade.
On arrival, PC Paul House discovered the driver had made off from the red Volkswagen Up. He deployed Police Dog Vinnie, who immediately indicated a track, and directed his handler right to Joel Elphick.
The 21-year-old waiter, of Golden Avenue, East Preston, admitted being the driver of the car involved.
Having failed a roadside breath test, he was arrested and charged with driving with 72mcg of alcohol per 100ml of breath in his system.
At Worthing Magistrates' Court on September 28th, Elphick was disqualified from driving for 20 months, fined £92, and ordered to pay £85 costs and a £30 victim surcharge.