Shoreham Air Crash Memorial
22 August 2017, 06:07 | Updated: 22 August 2017, 06:10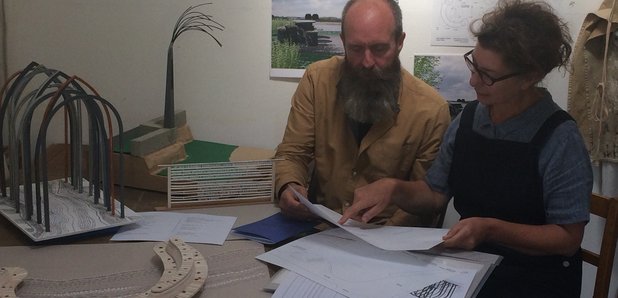 A "place for reflection" is being created as a memorial for the 11 men who died in the Shoreham Air Show crash.
The Shoreham Airshow Memorial will reflect as many people's needs as possible - that's the view from the artists commissioned by Adur District Council to create the installations.
Local husband and wife team Jane Fordham and David Parfitt have been working with the authority for the last year to create a lasting tribute to those affected by the crash in August 2015.
With direct input and guidance from the families of the 11 men who died in the disaster, the artists are creating a memorial walk which will include five separate stations along the banks of the River Adur.
As the second anniversary of the disaster approaches, the design stage of the memorial is now complete - and Jane and David believe they have created piece which can be used as a place of contemplation for all the community.
Included will be a series of railings with poetry; a picnic area; and a series of 11 arches, each one reflecting the individuals who died in the disaster.
Jane said:
"We decided on a gradual five part piece as we felt the grief felt by everyone affected was so great that could not be reflected with one installation."

"Some of the designs may not look like a memorial but they are all intended as a place for reflection to take in as many people's needs as possible."

"We are also very conscious that a lot of people already use that area, for walking, picnicking, cycling and even remembering, so we wanted to create something that reflects the past, present and future; where people can go along to and use in their own way."
David said:
"The enormity of this task has at times been overwhelming given that the event affected so many people on so many levels."

"As well as family and friends of the 11 people who died we continue to meet so many people who were affected by it. This is a way of creating place of remembrance while embracing the calm and serenity of the river."
Adur District Council began working with the families to create a lasting memorial those affected by the crash in autumn 2015.
After inviting artists to submit their proposals, Jane and David's idea of a walk along the banks of the River Adur was chosen by the families as the preferred idea.
Work on the designs have been ongoing for the past year in consultation with the families.
Five separate installations will located at various points between the Ropetackle development near Shoreham town centre and the wooden toll bridge near the airport.
The separate stations will only start to be installed when the Environment Agency complete the Adur Tidal Walls scheme to raise the riverbank. This is expected to be complete next year.