'Silent Soldiers' Stolen In West Sussex
22 November 2018, 12:00 | Updated: 22 November 2018, 12:16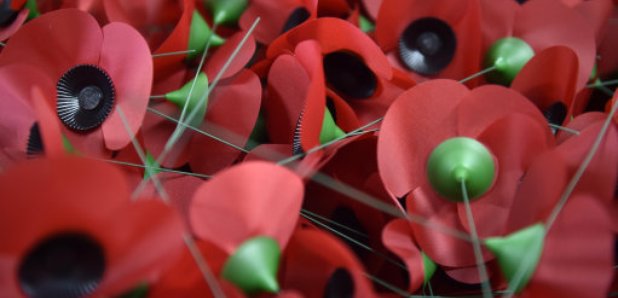 Police say they can't understand why anyone would steal something that represents sacrifice.
A spate of thefts has seen silhouette statues of soldiers, sailors and airmen marking 100 years since the end of World War One stolen from several West Sussex communities.

Produced by the Royal British Legion and distributed in return for £250 donations to the charity's Poppy Fund, the silhouettes have been widely displayed across the country.

But in several communities in Chichester and Arun, the striking black effigies made of weatherproof plastic and aluminium have been callously removed.

Residents who intended that they should remain in memory of those who gave their lives in Britain's conflicts have been appalled and outraged by their loss.
The latest theft of a 'silent soldier' took place overnight between 6pm on Sunday (18 November) and 6am on Monday (19 November).

The silhouette was removed from a concrete plinth at the junction of the B2138 Lower Street and Sandy Lane at Fittleworth, near Petworth.

Two others thefts occurred barely hours after Remembrance Day services had taken place.

Two silhouettes were stolen from Emsworth between 8pm on Sunday, 11 November and 9.30am on Tuesday, 13 November.
And another went between 5pm on Sunday, 11 November and 11am on Monday 12 November from a site beside the A272 at Lodsworth, Petworth.
Earlier, on 5 September, St Mary's Church, Petworth, lost statues of an airman and a sailor.

And overnight on August 29 and 30, a silhouette erected outside the Co-Op store in Main Road, Yapton, vanished at the hands of thieves.
Police have been unable to determine who has carried out the thefts and why, or whether the incidents may be linked.

But Inspector Danny West, of the Arun and Chichester prevention team, said he shared residents' "disbelief and anger" at the spate of thefts.

He said: " Why anybody should decide to steal a symbol of the suffering and sacrifice of our armed forces is difficult to comprehend.

"I can assure residents that we will pursue any line of enquiry rigorously in an effort to recover the silhouettes and bring those responsible to justice."
Anyone with information about any of the incidents is asked to contact officers online or by phoning 101, quoting serial numbers 78 of 03/09 (Yapton), 1097 of 05/09 (Petworth), 793 of 13/11 (Lodsworth), 1457 of 14/11 (Emsworth) or 834 of 21/11 (Fittleworth).
Alternatively please contact Crimestoppers or phone the independent charity anonymously on 0800 555 111.

Anyone seeing any suspicious activity or vehicles around war memorials should call police by dialling 999 immediately.