Sussex: Criticism Over Police Campaign
10 April 2015, 16:34 | Updated: 11 April 2015, 10:24
A new campaign by Sussex Police has drawn criticism on Social media by people who say it is blaming the victims.
Police have apologised and withdrawn a poster launched as part of a campaign to help prevent rape and serious sex attacks in and around bars and clubs.
Sussex Police issued the poster showing two young women posing for a selfie with the slogan: "Which one of your mates is most vulnerable on a night out?''
Beneath the question was the message: "Many sexual assaults could be prevented. Stick together and don't let your friend leave with a stranger or go off on their own.''
But some campaigners said the poster - which was due to go up in washrooms of pubs and clubs and at bus stops across Sussex - blamed victims.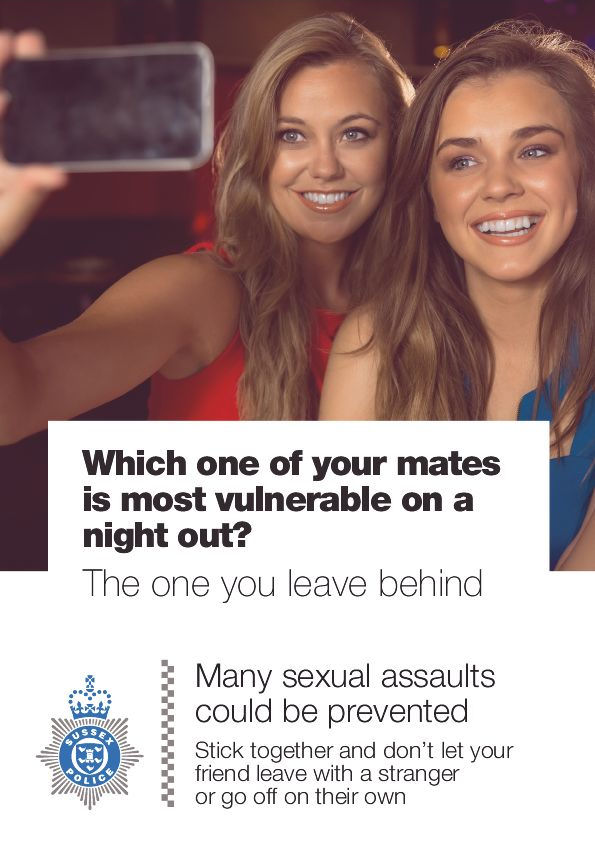 Now Sussex Police has announced it is cutting short the poster campaign, saying it was "well-intentioned'' but acknowledged it had caused `"some concern''.
Detective Superintendent Paul Furnell, head of public protection, said: "The way we have gone about this campaign has caused some concern. This was not the intention of our message and for that I apologise.
"We have listened to our partners and we have reached the decision to foreshorten this particular part of the campaign.
"The posters were not intended in any way to blame victims. I understand the concerns that have been raised about the poster and they will be withdrawn.
"I would like to stress that the posters were well intentioned with the sole aim of preventing people becoming victims of crime.''
The poster was due to have been the first phase of a campaign set to also include giving training and information to security staff and taxi drivers on what to do if they notice someone who appears to be vulnerable.
James Rowlands, strategic commissioner for domestic and sexual violence for Brighton and Hove, said: "I welcome Sussex Police's decision to withdraw this poster, in recognition of the feedback they have received.''
Read the Police Press Release For Yourself
Sussex Police is taking an innovative approach with its latest campaign to prevent rape and serious sexual offences in and around bars and clubs.

The latest Sussex Police campaign highlights how people can intervene to help prevent rape and serious sexual assaults. Other campaigns have focused specifically on consent.

Chief Inspector Katy Woolford, who identified this as a risk area, said: "This time, after months of research and talking to partner agencies and people working within the night-time economy, we're urging people to intervene when someone appears to be vulnerable or at risk. Door supervisors, taxi drivers, bar staff and groups of friends or the wider public need to take responsibility to protect others from those who may cause them harm.

"This is a real opportunity to make a difference. We would be failing in our response if, as with any other crime, we did not recognise that there are victims and urge them to take steps to minimise risks and help safeguard others from becoming victims. This is the first time we have taken such an approach to raise awareness, with the first phase urging friends to stay together and look after each other, so that no one is left alone or goes off with a stranger.

"It is vital to be aware of vulnerability so that steps can be taken to guard against it. Friends and bystanders can play a key role in this, learning to recognise where their intervention may prevent a crime taking place."

Over the summer months, security staff and taxi drivers will also be given information and training on what to do if they notice someone who appears to be vulnerable or subject to unwanted attention.

Posters on washrooms of pubs and clubs and at bus stops across Sussex are just one way of encouraging people to be more aware. Social and traditional media will also be used to support the campaign, which will run for some months with a number of different phases.

Sussex Police and Crime Commissioner Katy Bourne is funding vulnerability awareness training sessions across Sussex in May and June for some officers and staff, and for those who work in the night-time economy.

Katy Bourne said: "I am delighted to be funding this forthcoming training package to officers, staff and partners as part of the campaign. I believe that everyone should be able to enjoy a night out in the many vibrant towns in Sussex without coming to any harm. We all have a social responsibility to look after those in our society who may be more vulnerable due to various circumstances. I fully support any training that will enable effective partnership working, particularly during the night-time economy, that will help raise awareness of the signs of vulnerability, the signs of potential predatory behaviour and how to overcome the barriers that can stop some of us from intervening."

Sarah Morris, Business Crime Reduction Partnership (BCRP) co-ordinator said: "The BCRP has been working with doorstaff to promote their duty of care to help reduce sexual offences in the night time economy.

"Through training and briefings the BCRP is trying to ensure that those working in the night time economy are not only identifying vulnerable individuals but also those who could exploit them.

"Door staff in Brighton have been responsible for some fantastic duty of care work over the past few months and this next strand of training provided by Sussex Police will continue to raise this awareness and further develop the ability to truly make a difference."