Sussex Lollipop Ladies Fitted With Bodycams
16 January 2017, 06:05 | Updated: 16 January 2017, 06:14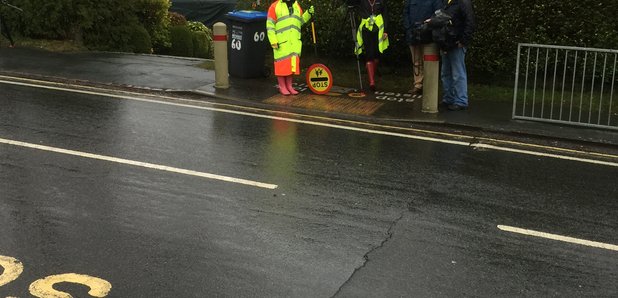 Harlands Primary School in Haywards Heath is going to start using body cameras in a bid to stop 'drive throughs' and abusive behaviour outside the school gates.
The cameras are worn across the chest to capture audio and video footage of motorists driving dangerously, or being abusive towards School Crossing Patrols, as they help children and parents across the road.
West Sussex County Council ran a pilot scheme last year outside Camelsdale Primary School with one of its School Crossing Patrol officers.
The trial proved so successful that Camelsdale Primary School will continue to use the camera from now on.
West Sussex County Council's Cabinet Member for Highways and Transport, Bob Lanzer, said: "Children and parents feel much safer.
"It has slowed the traffic.
"It has made it far safer for the area around the school and the abuse towards the School Crossing Patrol has reduced."
Harlands Primary School, in Haywards Heath, has experienced drive-throughs and verbal abuse directed at its School Crossing Patrol, with incidents being reported to police sometimes twice a week.
When the governors of Harlands Primary School heard about the scheme and its successful trial, they were happy to purchase the camera.
Bob said: "Recently our patrol there was reduced to tears by a very aggressive driver.
"It was this final incident that prompted the governors to offer the funding to purchase a camera for this site.
"All of these issues have been reported to Operation Crackdown and followed up."
He added the County Council was now keen for other schools affected by these issues to get in touch.
Bob said: "We'd love other schools to see what Harlands have done and do the same.
"For the cost of about £200, schools can purchase the camera and the County Council can arrange for everything else associated – such as training and signage - to be sorted out."
Key facts:
It is an offence to drive past a School Crossing Patrol when they are in the road.
If caught the offender will receive a fine and three points on their licence – the same they would receive for driving through a red light.
The camera records every shift a School Crossing Patrol works.
If footage is captured of an offence, it is passed onto Sussex Police to consider as evidence for prosecution.
If nothing of note happens, the memory card is wiped.
West Sussex County Council puts up temporary signs outside the school warning offending motorists they are on camera.