Train Passengers Face TimeTable Changes
25 April 2018, 08:59 | Updated: 25 April 2018, 13:23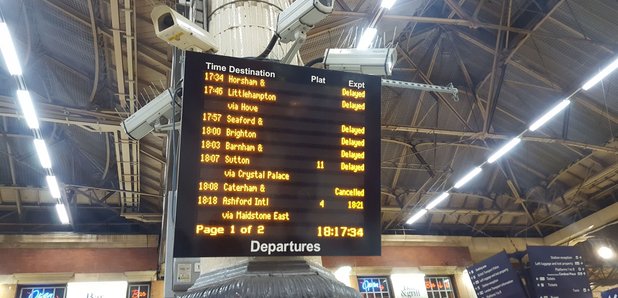 Depature times for every train run on Southern, Thameslink and the Gatwick express are set to change
Passengers in Sussex and Surrey have been told to expect disruption in what's being described as the biggest shakeup in rail history
The new timetable's now been published and will run from next month.
Govia Thameslink say it'll mean space for 40,000 more passengers travelling into London at peak times.
It warned that "there may be some disruption" as it embarks on "the biggest shake-up in UK rail history".
All Southern, Thameslink, Great Northern and Gatwick Express services will be altered from May 20, covering an area stretching from Cambridge and Peterborough to Brighton and Southampton.
New services are being introduced with space for 40,000 more passengers travelling into London at peak times, as part of the £7 billion Thameslink Programme.
By next year, 80 more stations will have direct services to the centre of the capital.
GTR chief executive Charles Horton said: "A huge number of passengers will notice the benefits in terms of new journeys, better intervals between trains, improved reliability and more capacity across a wide region.
"We are redeploying trains and crew and there may be some disruption, so we ask passengers for their understanding during the transition period of several weeks during which time a very small number of trains will not run.
"Almost a quarter of all rail journeys are taken on the GTR network and because of the necessary scale of the change we strongly urge passengers to check ahead as to how their journeys will be affected."
He added that the changes follow "the biggest and most effective consultation of its kind", in which hundreds of amendments were made following 28,000 responses.
In October the Department for Transport (DfT) decided to delay the full introduction of new Thameslink services from December 2018 to December 2019.
This reduces the risk of disruption, but means passengers in some locations will not receive the full benefits of the programme for up to a year later than scheduled.
The Public Accounts Committee found that it took the DfT and Network Rail too long to start planning how the new railway will operate.
Thameslink services will step up to 18 trains per hour in May and 20 per hour in December, with the full increase to 24 not reached until December 2019.
It is not the first time an increase in services on the route has been delayed.
A modernisation scheme named Thameslink 2000 was first discussed in 1991 but did not begin until 2006 due to privatisation of the railways and complex planning inquiries.