Uckfield Gets Extended Train Platform
Network Rail have announced major works to extend 12 platforms on it's Uckfield to London Bridge line to take longer trains and ease overcrowding.
Eight platforms on the line will more than double in length with work expected to take eight months from November 2015 til July 2016.
Network Rail Project Manager, Craig Melhuish, said: "By extending the platforms we will be able to run longer trains that will reduce congestion and improve the daily commute for thousands of people."
The aim is to increase passenger capacity by 50%.
Uckfield will be worst affected by the disruption being at the end of the line.
No trains will run from Uckfield during the first seven weeks of 2016, 4 January – 20 February 2016.

Network Rail also say there will be "weekend closures from Hurst Green to Uckfield at various points" from August til May 2016

No off-peak trains will run from Uckfield for two and a half weeks, Mon to Fri between 9:20am and 4:40pm, 2 November – 25 November 2015.

No off-peak trains will run from Uckfield for four weeks, Mon to Fri, 9:20am and 4:40pm, 14 March – 9 April 2016.

A "comprehensive rail replacement bus service" will connect Uckfield to trains at Oxted during off-peak cancellations, and Uckfield to Crowborough during all-day cancellations.

Network Rail are holding a series of drop-in sessions to explain their plans to commuters.
Edenbridge - Wednesday 22 July 2015 4-8pm, Leisure Centre, Stangrove Park, Edenbridge, Kent TN8 5LU
Crowborough - Monday 27 July 2015 4-8pm, Leisure Centre, Eridge Road, Crowborough, East Sussex, TN6 2TN
Uckfield - Wednesday 29 July 2015 4-8pm, Civic Centre, Uckfield, East Sussex, TN22 1AE (Ashdown Room)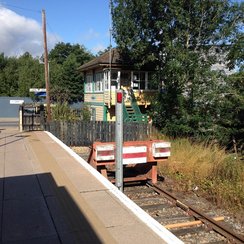 The eight station platforms to be doubled with their extra length in metres are Edenbridge Town, 114m, Hever, 114m, Cowden, 115m, Ashurst, 114m, Eridge, 100m, Crowborough, 87m and Buxted, 115m.
Earlier this year the government announced it will provide £100,000 for a further study into reopening the Lewes to Uckfield rail line which closed in 1969.