Worthing: Veterans Have Day Out
16 June 2015, 15:15 | Updated: 16 June 2015, 15:55
More than 100 London black cab drivers switched off their meters to ferry hundreds of war veterans on a day trip to the seaside in West Sussex.


Veterans and their carers were collected by cabbies who drove in convoy on a 30-mile (48km) journey from near Dorking in Surrey to Worthing.

More than 110 London black cabs created a spectacle by parking along the resort's promenade for the annual veterans' visit, which is now in its 67th year.



The London Taxi Benevolent Association for War Disabled, known as the Taxi Charity, has been organising the trips to the South Coast since 1948.

On arrival at the Pavilion at the foot of Worthing Pier, veterans, including those from the Royal Hospital in Chelsea, were treated to a fish and chip lunch.

As the mayor and mayoress of Worthing greeted the visitors, the veterans were entertained by the Polka Dots vintage harmony group and had ice cream laid on for them.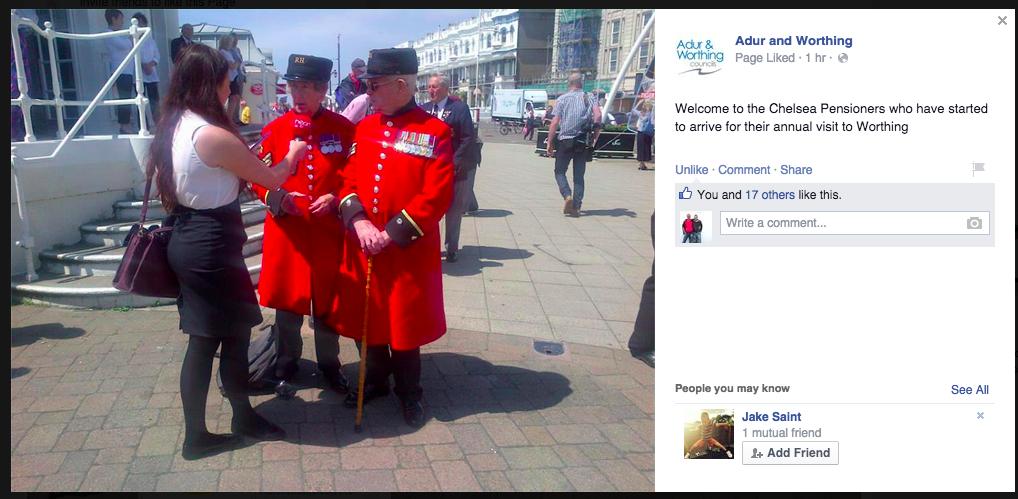 Heart's Danielle Cardy interviews Chelsea pensioners

Chelsea Pensioner Trevor Thomson, 76, originally from Hollingworth, Cheshire, said: "We enjoy it very much, just getting out of London and seeing green fields again, which is wonderful. It's a really nice day.''

Roy Nash, 84, from Chingford, north London, said: "It's nice that we have got so many cab drivers who appreciate us. I think they deserve a medal.''

Tony Lockhart, one of the London black cab drivers who took part in the trip, said it was an honour to carry the veterans.

He said: "The fellas I have picked up over the years have been absolutely blinding. I don't ask too much about what they have been through and what they have seen, as long as they have a nice day.

"We are all just pleased to do it. We are only losing a day.''


Paul Davis, honorary secretary of the London Taxi Benevolent Association for War Disabled, said: "In a lot of cases it's the only time they get to the seaside. The drivers give up their time for nothing, they don't get paid for it, but they make friends over the years.''

The annual trip to Worthing began after the Second World War when a few black cab drivers came together to collect money to take veterans on a break to the seaside.

Daniel Humphreys, leader of Worthing Council, said: "It is a time-honoured tradition for the residents of Worthing to welcome these brave men and women every year to our town.

"We are delighted that they enjoy Worthing so much, that they continue to visit us every year, this being their 67th visit.''

Worthing Mayor Michael Donin said: "It is a privilege and honour to meet and welcome these veterans and the London Taxi Benevolent Association for War Disabled to Worthing.''

The Taxi Charity counts among its patrons Dame Vera Lynn and Joanna Lumley, who were guests of honour at the annual Worthing trips in 1985 and 2009 respectively.