Big Town Final Celebration!!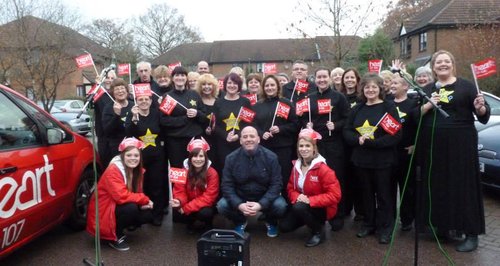 It's FRIIIIDDDAAAAAAYYYYYYYY!!!!!
Not just any Friday OH NO, it's CHRISTMAS JUMPER DAY!!!
Nicola turned up this morning in her Christmas jumper but Tom didn't! She knew he wouldn't so she bought him a little pressie.
TADAAAAA!!!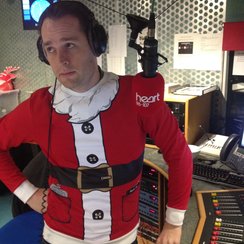 Jack was out of the studio this morning and came live from Horley with this seasons Big Town Showdown winner Sonia! He turned up with lots of gifts for her. Thank you to
Wickwoods Country Club Hotel & Spa
for her spa day, she's also off to the magical
Lapland UK
with her children to see Father Christmas and thanks to ASDA in Brighton Marina for giving a big sack of toys for the kids.
The Rock Choir
were there singing some festive tunes which sounded absolutely fantastic and the big man himself even showed up, SANTA!!!
WELL DONE SONIA!!
The Big Town Showdown will be back in the new year for another season of general knowledge madness.
Not just that, Nicola also had to face her forfeit this morning. She lost at 'Gender swap mastermind' earlier this week so had to dress as her male alter ego 'Nigel', stand in the middle of Portslade high street and sing that Chaz and Dave classic 'Rabbit Rabbit Rabbit Rabbit.....'. Hat's off to her, she nailed it! Listeners even managed to get a sneaky pic of her mid song! We retweeted it on our twitter page @sussexandsurrey so you can have a look.
PLUS! Yesterday, Nic really got into character as Nigel so challenged herself. She attempted to book a nail appointment dressed as Nigel, for his fictional girlfriend at Express Beauty in Hove. Watch this!!


Well done Nic!
Make sure you listen on Monday as the whole week next week will be very festive!! Have a great weekend and we'll see you Monday from 6am.